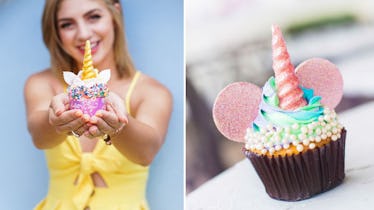 Iridescent Treats Are Taking Over Disney & They'll Make Your Next Insta So Shimmery
From churros and ice cream, to macarons and pretzels, Disney is known to have incredibly yummy treats. The food game has been going strong recently, with some desserts so pretty that any foodie needs to snap them for the 'Gram before taking a bite. Do you remember the millennial pink treat craze Disney just had? Well, now it has moved on to some truly magical desserts, and these iridescent treats at Disney will bring some unicorn dust and shimmer to your feed.
Taking after the iridescent Minnie ears that arrived in the parks recently, these pretty cupcakes, lollipops, and macarons are not only gorgeous, but extremely mouthwatering. Some of these goodies are made to look like unicorns and mermaids, which only adds to that Disney magic we all love. It also doesn't matter what coast you're on, because you'll be able to find some iridescent treats at both Disneyland and Disney World this summer.
If you have plans to travel to Disney, make sure to grab yourself some iridescent Minnie ears, have your camera in tow, and get your appetite ready, because you need to add these 11 Disney treats to your bucket list ASAP. They're almost too beautiful to eat, but that's why you have to take the perfect pic first. Maybe snap it in front of your favorite Instagram wall, or as a selfie with your ears. Either way, snap, share, and enjoy.