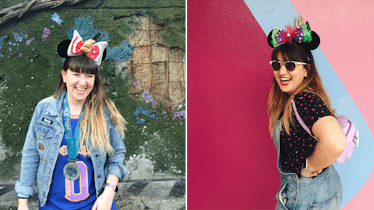 The 9 Best Insta Walls At Disney World For Blogger-Worthy Pics
When you think of Disney World, I'm sure you think of the Mickey Mouse, Space Mountain, yummy churros, and the magical firework display that fills up the night sky. Those are all perfect Instagram opportunities, but for your next trip, you need to make sure to scope out some of the best Instagram walls at Disney World. As one of the most Instagrammed destinations across the globe, Disney knows how to take your vacay photos from great to incredibly fairy tale-worthy.
Across all four theme parks in Florida — Magic Kingdom, Animal Kingdom, Hollywood Studios, and Epcot — you can find some vibrantly painted walls that make for awesome backdrops for your next Insta pic. So, get your poses ready. From the famous purple wall to some new gems in the recently opened Toy Story Land, you're sure to stumble on an Instagrammable wall that catches your eye. You could even make it a point to visit all nine of these walls as a Disney 'Gram scavenger hunt with your girl crew.
The best part about Disney World is it's always changing. I'm sure there are a ton of walls yet to be discovered, so on your next vacay, maybe you can discover your very own special Instagram-worthy wall.