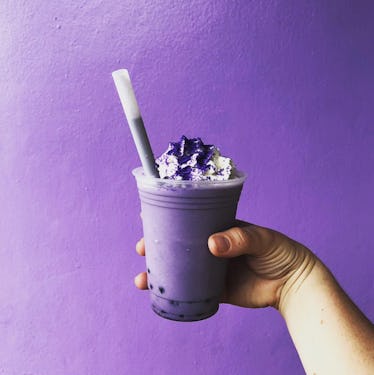 Disney Released A New Millennial Lilac Drink & It's So Insta-Worthy
Disney World just released its millennial-approved answer to the park's viral Purple Wall, and it's safe to say that your Instagram will never be the same. The Magic Kingdom is always working to make sure all your theme park snacks are on-hue (their millennial pink treat selection is next level), and their newest upgrade is literally so pretty. Get ready to put your rose gold churros on stand-by, because Disney's Purple Wall Slush is here to score you all the "likes" with the lilac shade of the moment.
The hype all started with the recent renovation of Walt Disney World's Purple Wall, which has become a destination for anyone looking to snap the perfect selfie since it was unveiled in early April. Located by Tomorrowland Terrace, the Purple Wall basically adds the perfect violet pastel backdrop to suit all of your Instagram needs, and has even garnered its own hashtag and geotag on the photo-sharing app.
Now, Disney has released an accompanying milkshake in the color of the moment, and your friends will be jealous AF when they see how stunning it looks. It's called the Purple Wall Slush, and it originally appeared in a blog post on May 19 that featured a seemingly standard "roundup of sweet treats" that you can enjoy around the park. However, when the Purple Wall Slush was officially released on May 21, people quickly figured out that the new drink perfectly matches the Purple Wall, and a new Instagram photo-op was born.
Like, how pretty is that? Not only does it match the wall, but it also comes in this year's most trendy hue, millennial lilac. According to Disney, this Instagram-worthy slushie is made with taro tea, and is topped "with tapioca boba pearls, whipped cream, and purple sprinkles." And at only $5.99, this sweet confection is a steal for blowing your next Instagram post out of the park. Bonus points for getting a lilac manicure for the photo-op, because there's just no way you can get enough of this flattering shade.
For people who haven't tried taro, myself included, it's a "starchy tuberous root" that has a similar flavor to a sweet potato, according to Sunset Magazine. The potato-like vegetable seems to pair well with a variety of desserts, and I've definitely heard of it being used as an ingredient in ice cream and bubble tea. Judging from a few users who've already managed to try the new Purple Wall Slush, the drink is pretty sweet (no surprises there). One Instagram blogger even compared the taste to "Salerno butter cookies," so take that how you will.
It might be hard to get your hands on a Purple Wall Slush, at least initially, unless you're willing to wait in long lines. One Instagram blogger cautioned, "The Purple Wall Slushy is VERY good but I'd recommend waiting a couple weeks before attempting to buy it. Tomorrowland Terrace has not been able to get it together for the last two days. Be warned, you will be waiting an obscene amount of time even with mobile ordering."
Now does seem like the perfect time to take advantage of Disney World's mobile ordering feature. It has been around since spring 2017, and features 23 different locations around the park where you can skip or at least shorten long wait times. Simply download the My Disney Experience app on your phone, make a mobile order, and then pick-up your theme park treat with minimum hassle. Just days ago, the company announced that it had rolled out a similar mobile ordering feature on May 22 for Disneyland visitors, but unfortunately, you won't be able to score a Purple Wall Slush or an Instagram-worthy lilac backdrop there.
The Magical Kingdom's newest drink offering leaves me with just one thought: Considering Disney's track record of delivering on-trend treats (like their huge selection of millennial pink goodies), could we be seeing a range of millennial lilac snacks coming to the parks soon?