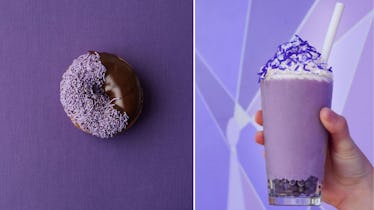 Millennial Lilac Food Is Here & It'll Make Your Summer Instagrams So Gorgeous
No one can deny that summer is the most vibrant and 'Grammable season of the year. We're finally able to break out those floral sundresses that have been chilling in the backs of our closets, and bask in the glory of sunshine and clear blue skies. Out of all the beautiful colors we're seeing this time of year, I already know one that's taking center stage: millennial lilac. It still might be too soon to tell what the song of the summer will be, but it's clear that gorgeous pastel purple will be the official color of the season. If you're a foodie, that means millennial lilac food is here for your 'Gram, and you need to check it out ASAP.
Just like many people hopped on the millennial pink trend, now everyone's all about millennial lilac. As a foodie myself, I'm here for Instagram-worthy dishes with bright colors and elaborate garnishes. In order to add some color to your 'Gram, you need to get your hands on any of these nine millennial lilac foods. These lilac treats will really make you do a double take; they're almost too pretty to eat. Snap the most Insa-worthy shot, grab a fork, and experience deliciousness.