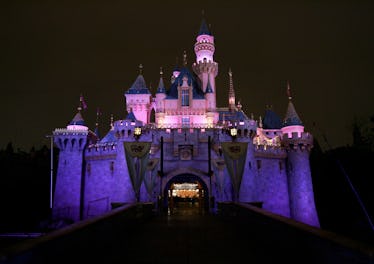 The 7 Best Backdrops For Your Instagram Pics At Disneyland
Frazer Harrison/Getty Images Entertainment/Getty Images
Disneyland is an ideal vacation destination, especially if you're looking for snapping some killer vacay photos. After all, it was named the "most-Instagrammed location" in 2017, according to Instagram itself. There's no denying this magical place has so much sparkle, but what makes Disneyland such an amazing place to post on your feed? Well, the place has a wide variety of backdrops for your plandids. You might not already know of the most Instagrammable places in Disneyland, so I am here to help you out with a bucket list of pitstops the next time you're there.
Just like there are hidden Mickeys throughout the parks, there are also some hidden walls that make for great backdrops for that dreamy Disney Insta pic. The colorful walls only bring out the magic in your Mickey ears, if you're looking to show them off. Or, maybe you want to display your dapper Disney Bound outfit that looks just like your favorite character. I have to say, my favorite is snapping a pic of my favorite Disneyland treat.
Whatever you decide to take a pic of, with this list of the seven scenic walls, you now have a secret map to the hidden gems of Disneyland. Not only will you be having a magical time eating Dole Whip while riding Splash Mountain, but you will have the pictures to accompany.