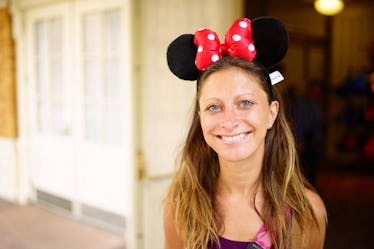 28 Magical Instagram Captions For Disney When You're Rocking Your Minnie Mouse Ears
Shutterstock
A Disneyland trip is one of the most magical vacays you can take with your family and friends. You'll be spending the day among princesses, pirates, and the fab characters you love. Of course, no Disney trip is complete without everyone in your party donning some of those infamous Minnie Mouse ears. Whether you decide to go for the traditional Mickey hat, a sparkly Minnie headband, or a homemade pair of ears representing your favorite character, everyone must have mouse ears for that group shot in front of the iconic castle... complete with some magical Instagram captions for Disney.
Disney is the go-to destination to embrace all of those nostalgic feels from your childhood. You can't turn a corner on Main Street without seeing those cute mouse ears on someone's head. In fact, having your own pair of Mickey ears is so popular that you can even find custom-made sets on Etsy. In addition, Disney is coming out with a line of interchangeable bows this fall. Now that you know Mickey and Minnie ears are a must-have for an epic Disney vacation, let your friends know you're ready for your closeup. Snap away for Instagram to capture the ultimate fairy tale shot. If you need some help, here are 28 Disney quotes you can use for captions so you can post right away. Have the most magical time at "the happiest place on Earth," because girl, you look good.
1. "Laughter is timeless, imagination has no age, and dreams are forever." — Walt Disney
2. "All you need is a faith, trust, and a little pixie dust." — Peter Pan
3. "You're never too old to wish upon a star."
4. "Growing old is mandatory, but growing up is optimal." — Carroll Bryant
5. "Hakuna Matata! Ain't no passing craze. It means no worries for the rest of your days." — The Lion King, "Hakuna Matata"
6. "A dream is a wish your heart makes." — Cinderella
7. "Happiness is a state of mind. It's just according to the way you look at things." — Walt Disney
8. "And at last I see the light." — Tangled
9. "This is just part of growing up. A little adventure, a little rebellion." — Tangled
10. "I'm practically perfect in every way." — Mary Poppins
11. "Second star to the right and straight on 'til morning." — Peter Pan
12. "See the line where the sky meets the sea. It calls me. And no one know how far it goes." — Moana, "How Far I'll Go"
13. "They say if you dream a thing more than once, it's sure to come true." — Sleeping Beauty
14. "Adventure is out there!" — Up
15. "First, think. Second, believe. Third, dream. And finally, dare." — Walt Disney
16. "Remember, you're the one who can fill the world with sunshine." — Snow White
17. "To all who come to this happy place, welcome." — Walt Disney
18. "The flower that blooms in adversity is the most rare and beautiful of all." —The Emperor, Mulan
19. "Every adventure requires a first step." — Cheshire Cat, Alice in Wonderland
20. "The mountains are calling. Space, splash, big thunder."
21. "I want adventure in the great wide somewhere." — Belle, Beauty and the Beast
22. "I didn't choose the ear life. The ear life chose me."
23. "Yo-ho! Yo-ho! A Disney life for me."
24. "Look for the bare necessities. The simple bare necessities. Forget about your worries and your strife." — The Jungle Book
25. "I'm not crazy. My reality is just different than yours." — Cheshire Cat
26. "I never look back, darling. It distracts from the now." — Edna Mode
27. "To live would be an awfully big adventure." — Peter Pan
28. "Let me share this whole new world with you." — Aladdin, "A Whole New World"
This post was originally published on Oct. 3, 2017. It was updated on Aug. 26, 2019.