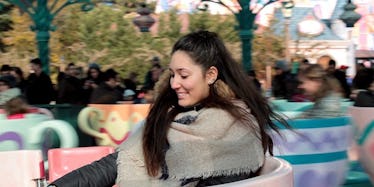 8 Legitimate Reasons Why You'll Never Be Too Old For A Disney Vacay With The Girls
laperladilabuan/Fotolia
Disneyland was always meant for the young and the young at heart. There's no age limit on fun, and that is exactly what "The Happiest Place On Earth" is all about. As the go-to Disney expert of my friend group, I can certainly back up my claim with reasons why you're never too old for Disney with your girl crew. I've been going to Disney my entire life, and I will never, ever reach a point where I think I'm too old for it. It's just not possible.
Disney was designed to have activities for all ages. It may have the reputation among some groups of people that it's simply for kids, but those people who say that probably haven't even gone when they were older. After reading these eight reasons why you'll have a downright magical time at Disney as an adult, you'll be calling up the girls and booking your vacation ASAP. And believe me, it's also not just about the cool parks. You and your gal pals will have a great time picking out the perfect pair of Minnie Mouse ears, and Instagramming your glitter beignets. Disney is truly a Neverland where you don't have to grow up if you don't want to. Even Walt Disney knew what was up when he said,
That's the real trouble with the world, too many people grow up. They forget. They don't remember what it's like to be 12 years old...
You and your squad will naturally grow throughout adulthood, but just remember to never ignore your inner kid, because you'll be missing out on some hella dope Disney vacations if you do.
1. The Food Is Fan-Freakin-Tastic
I have to admit, 90 percent of my time on any Disney vacation is eating, and then figuring out where I want to eat next. You're never too old to eat delicious food, amiright? And before you try to tell me it's all popcorn and churros, let me clue you in on what's wrong with that: There are so many delicious restaurants at the parks and resorts to fulfill your fancy food needs (shoutout to those magical glitter beignets).
2. You Can Drink And Eat Around The World
Yes, it's true there's no alcohol served in the Magic Kingdom and Disneyland, but all of the other parks have fun cocktails that you must try. Epcot is probably one of my favorite parks, and it's because you can drink and eat around the world -- from a margarita in Mexico, to a beer in Germany. Another great thing about Epcot is their annual Food and Wine Festival. Sip, savor, and rock out to some live music.
3. Your Stay At A Disney Resort Will Be Just Like A Fairytale
You haven't lived until you've stayed at one of Disney's resorts. The Polynesian bungalows are for the books. In addition, lavish rooms with balconies that spotlight front row seats to the fireworks will make you feel like you're living in a fairytale. There are so many amazing places to choose from, it can become overwhelming. But, you and your squad will most likely come to a unanimous decision.
4. Spas Are A Dream Come True
Disney has some of the best spas I've ever seen. On the Disney cruises, they have luxury spas that offer anything you've ever dreamed of, from massages and facials, to manis and pedis. Your friends will love being pampered on the high seas. I haven't even mentioned the Rainforest Room, which features various showers and saunas. I'll let that sink in.
5. There Are Some Major Thrills
Disneyland recently opened the Guardians of the Galaxy -- Mission: BREAKOUT! ride, which is a Marvel spin on the Tower of Terror ride. It has an awesome soundtrack and some serious drops that will get you pumped up. But don't worry, Disney World still has the Tower of Terror ride we all love.
6. You'll Inevitably Take A Ton Of Instagram-Worthy Pics
If you and your friends love snapping pics for Instagram, Disney is actually the perfect place to be. They have so many hidden walls that are ultimate spots for taking pictures, like the gorgeous "Purple Wall" in Tomorrowland, and the "Bubblegum Wall" in Epcot. Get your squad poses ready to go.
7. It's Not All About The Theme Parks
If you and your friends are looking for something other than theme parks, there are so many other Disney vacations you can go on. Disney has ventured out into cruises, and their unique Adventures by Disney branch is a fun option to check out. Adventures by Disney features vacations across the globe, and the best part about it is that Disney plans the whole trip for you. From Scotland to France, you can basically go anywhere your heart desires.
8. It's The Perfect Place That Caters To The Kid Inside Us All
Between our jam-packed schedules, to trying to get to work on time without spilling our coffee along the way, adulting can be extremely difficult at times. The perfect place where you can escape reality for a bit with your friends and celebrate your inner kid is Disney. So, it's time to get planning your next vacation, Disney style.