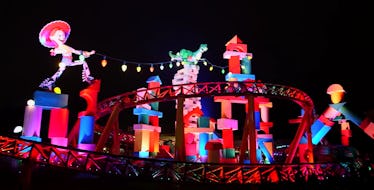 This Video Of Disney's 'Toy Story' Land At Night Will Get You So Excited To Visit
You guys, I don't know if you've heard, but one of the best Pixar films is finally getting its due at Disney World in Orlando, Florida. Toy Story Land is set to open at the end of June, but Disney has taken mercy on everyone's Toy Story-loving hearts with a sneak peak of the rides you can expect to enjoy when you visit. This video of Disney's Toy Story Land at night will get you so pumped to visit this highly anticipated attraction.
If you're a diehard Disney fan, then you probably already have a countdown goin' for the June 30 opening of Toy Story Land. Now, there have been pictures and descriptions of what this part of the park devoted to Woody and the gang will look like, but now you can practically feel like you're right there in it. The awesome video with a preview of the Toy Story Land rides was posted to the Disney Parks YouTube Channel on Thursday, June 21.
Honestly, the rides look way more fun (especially at night) than I could have ever imagined. With coasters like the Slinky Dog Dash and Alien Swirling Saucers glowing in the dark of night, Toy Story Land looks like it will be lit AF (in the most Disney way possible).
While this preview of the rides is super cool, another fun fact shared by a Disney engineer in the video is that this nighttime test run is the first time Toy Story Land's lighting and audio components of the rides have been in action together.
The two rides that shined in the night were Slinky Dog Dash and Alien Swirling Saucers, and it seriously looks like your favorite Pixar movie has come to life in Toy Story Land. The Slinky Dog Dash puts you with your favorite stretchy toy as you wind through the blinking lights of Slinky's coaster adventure.
You'll feel like you're going to infinity and beyond when you join your Alien pals on the Alien Swirling Saucer. Actually with the galactic lighting, you'll bet transported to the toy machine at Pizza Planet, and before you know it, you might even find yourself chanting, "The claw! The claw!" OK, that likely won't happen, but you will be blown away by both rides' likeness to the movie.
If you don't believe me, then take the word of Ryan Wineinger, one of the Creative Directors. Wineinger has obviously spent a lot of time bringing Toy Story Land to life, and even he was taken aback by how spectacular it all looks when it comes together at night. He shared in the video:
You think you understand just how dynamic it's all gonna be when it comes together, but frankly, nothing can really prepare you for the moment when you see all of that come together in harmony like it has tonight.
While watching the video will definitely get you pumped to visit the childhood-dream-come-true attraction, you probably won't be fully prepared for all the Toy Story realness you'll get at Toy Story Land. This part of the park in Disney's Hollywood Studios at the Walt Disney World Resort in Orlando, Florida is scaled to make it feel like you are actually a toy walking through it. In short, everything is larger than life, and you'll feel like you're one of the crew with Jessie, Woody, Buzz, and the whole Toy Story gang.
You won't have to worry about going hungry as you explore Toy Story Land, either. Pop on over to Woody's Lunch Box to get your fill of "classic American fare," and of course, some other "Toy Story-themed specialties." Now, you have to hold on until June 30 to get the real Toy Story Land fix, but you can totally use this preview vid as your pump-up video until then.
If you really can't wait any longer, you can check out a little taste of Toy Story on the other coast at Disneyland in Anaheim, California. Pixar Fest is going on there from April 13 to Sept. 3, and it features none other than Toy Story's Pizza Planet. If you've got the time, you can go grab a slice in California and then make it back to Disney World for the opening of Toy Story Land. You're never too old for entirely Disney-themed vacations, right?