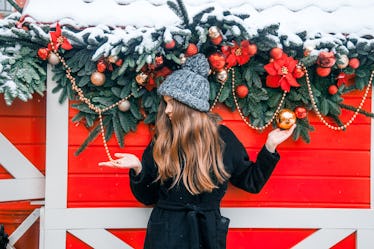 These Places In The U.S. Have Holiday-Themed Names For A Very Merry Getaway
Shutterstock
There might only be a few weeks left of the holiday season — when malls are jam-packed with frantic shoppers, and adorable houses are sporting extravagant light displays. But that's not stopping you from tossing a few sweaters in your suitcase and booking merry trips around the world. On the contrary, you're scoping out holiday-named destinations and finding the cozy cabins on Vrbo and quaint ice skating rinks.
You may be sitting on your couch with your laptop and credit card, on a mission to surround yourself with as many Christmas-related things as possible. You might be scrolling through travel guides that mention the neighborhoods with the best Grinch-themed pop-ups or hiking trails that'll let you explore a wintery wonderland.
TBH, it all sounds magical, from the coffee shops with hot chocolate on the menu to the bustling markets with dainty ornaments popping up in the towns' squares. Where exactly should you go? Can you go wrong? If you're visiting one of these seven places that's named after a reindeer or a sprig of mistletoe, probably not. They're bound to make you feel merry and bright and totally surround you in Christmas vibes from the second you walk in the door of your cozy rental.