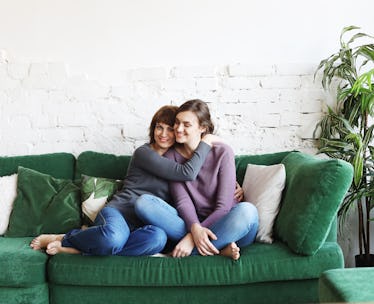 8 Best Holiday Movies To Watch With Mom During Your Visit Home
Shutterstock
When you're home from college for the holidays, you want to make the most of it. You want to go to coffee shops with your best friends, hang out with your siblings, and spend lots of time with your day one — your mom. Those hangs may include making some popcorn and tuning into the holiday movies to watch with Mom.
These are the films you might stream every December since you were a kid, or quote in casual conversation. They may take place in a quaint town in Connecticut, or in a snowy, romantic city. Either way, when you hit the "play" button, your stomach likely fills up with butterflies because you know what love story or magical scenes are about to go down. Kate Winslet is about to find her gumption, or Elsa is about to break out in the iconic song, "Let It Go."
The best part? Your mom is right there with you, equally as excited. In fact, the week before you came home, she was probably sending you all kinds of memes from Elf and baking snowman-shaped cookies. So, put these eight holiday movies in your queue now so you're prepared for a very festive visit back home.