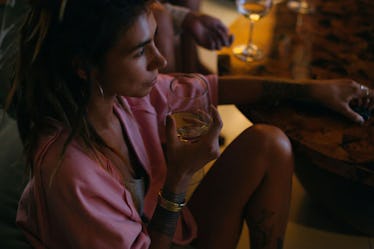 32 Captions For Watching Christmas Movies & The Most Wonderful Wine Nights Of The Year
Cuddling up with your roommates, a glass of cabernet, and a couple of big blankets is always better when your favorite movies are involved. Yes, at least once a week, you and your girls plan a night of sipping wine and catching up on what's going on in life (if you're 21 or over, of course.) Typically, these nights end in lots of laughing and putting on a television show you've seen a million times. But, now that it's the holiday season, your usual routine is going to be a little bit more festive. You'll pair that wine with some hot chocolate and marshmallows, and be in serious need of some captions for watching Christmas movies. That's right. 'Tis the season for How the Grinch Stole Christmas, Love Actually, and many Buddy the Elf quotes.
Let's be honest: You could watch these movies year-round without a worry in the world. It doesn't have to necessarily be cold outside for you to get in the holiday #mood. Although, taking a snow day to have a Home Alone marathon is as sweet as the sugar cookies baking in the kitchen.
In just a few moments, you're going to bundle up in those blankets with your besties and a couple of bottles by your side. You will stop and smell the rosé, and then quote every single line to the classic movies that always carry you through the chaos and bliss of this time of the year. Be sure to snap a few pictures of your setup — popcorn, mugs, and laptop screens included. Then, post one of those pictures on social media with one of these 32 captions for watching Christmas movies. You know, to remind someone else that it's the most wonderful wine night of the year.
1. "The best way to spread Christmas cheer is singing loud for all to hear." —Elf
2. "Merry Christmas, ya filthy animal." —Home Alone 2: Lost in New York
3. "'Maybe Christmas,' He thought, 'Doesn't come from a store. Maybe Christmas, perhaps... means a little bit more!'" —How the Grinch Stole Christmas
4. "Every time a bell rings an angel gets his wings." —It's A Wonderful Life
5. "But you know, the thing about romance is, people only get together right at the very end." —Love Actually
6. "Nobody's walking out on this fun, old-fashioned family Christmas." —National Lampoon's Christmas Vacation
7. "We elves try to stick to the four main food groups: candy, candy canes, candy corns, and syrup." —Elf
8. "Holiday who-be what-ee?" —How the Grinch Stole Christmas
9. "But I think what I've got is something slightly resembling, gumption." —The Holiday
10. "Seeing is believing, but sometimes the most real things in the world are things we can't see." —The Polar Express
11. "Not too hot. Extra chocolate. Shaken, not stirred." —The Santa Clause
12. "And as any child can tell you, there's a certain magic that comes with the very first snow, especially when it falls on the day before Christmas." —Frosty the Snowman
13. "That's what Christmas is all about, Charlie Brown." —A Charlie Brown Christmas
14. "Oh, Christmas isn't just a day, it's a frame of mind." —Miracle on 34th Street
15. "I thought maybe we could make gingerbread houses, and eat cookie dough, and go ice skating, and maybe even hold hands." —Elf
16. "So now, I'm just gonna kiss you for the millionth time and say, 'Be seeing you.'" —The Holiday
17. "Baby, it's cold outside." — Dean Martin, "Baby, It's Cold Outside"
18. "Christmas isn't a season. It's a feeling." — Edna Ferber
19. "All is calm, all is bright." — Joseph Mohr, "Silent Night"
20. "It's starting to feel a lot like Christmas."
21. "Sweater weather and being merry together."
22. "Let's just jingle all the way home and watch movies."
23. "All I want for Christmas is you. Just kidding, I want wine."
24. "I'm dreaming of a wine Christmas."
25. "Season's greetings from my couch to yours."
26. "Dear Santa, please refer to my Pinterest boards and favorite holiday movies."
27. "No Grinches live here."
28. "The weather outside is frightful, but the wine is so delightful."
29. "Oh, deer. We've been watching Christmas movies for hours."
30."This is my happy place."
31. "Mistletoe, wine, and good times."
32. "May your days be filled with Christmas movies and bright lights."
The best part of these wine and Christmas movie nights is that there's something in it for everyone. One of your roommates who's not totally in love with the holidays might relate to the Grinch in some ways, and the sweet girl in your friend group gets to bake a bunch of cookies before sipping a fruity wine.
For you, there's quality time spent with the people you love, and watching movies that you want to be a part of. I mean, that cute cottage in the English countryside from The Holiday? Sign me up! Well, after you post on social media, because it's a wonderful night.