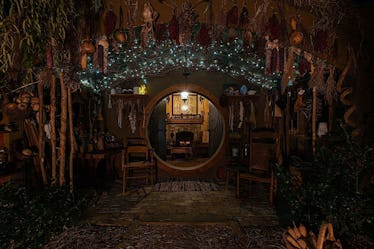 These Cozy Airbnbs Will Transport You To The Shire From 'The Hobbit'
Is there anything better than when your favorite franchises come to life? That's the beauty of places like Universal Studios, where you can wander through Hogwarts like Harry Potter, and Disney World, where every fan of Star Wars can fly the Millennium Falcon. For those who are obsessed with all things related to J.R.R. Tolkien's iconic novels, there are these Hobbit-style Airbnbs that'll totally transport you to The Shire.
They'll let you pretend you're an elf or a wizard like Gandalf. Of course, if you'd rather stand in front of the round entryways surrounded by twinkly lights and imagine you're Bilbo Baggins, that's totally fine, too. These cozy homes are a place for you to let your imagination run free, and design your own version of the fantasy-filled plot.
For true fans of Lord Of The Rings and The Hobbit, these cozy, quaint, and cute (Yes, cute.) Airbnbs are lovely spots to cuddle up with their go-to books and look for hidden details that might reveal something about the prequels or sequels to come. Without further ado, here are the six Hobbit-inspired Airbnbs that should be on your radar. Before you know it, you'll be transported straight to The Shire.