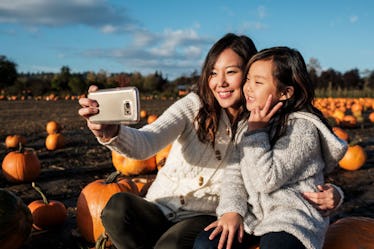 These Adorable Fall Staycations To Take With Your Niece Will Never Go Out Of Style
This autumn, you may want to make a lot of room in your busy schedule to hang out with your niece. Despite what's going on in your life and the "real world" responsibilities you have to tend to, she puts things into perspective and makes you smile brighter than the sun. Your niece always makes you feel like a million bucks and tells you that you're the raddest family member in your crew. Let's be honest: You take that "cool aunt" title very seriously, which means you need some ideas for fall staycations to take with your niece ASAP.
In the past, you may have carved pumpkins together and gone to the local corn mazes. You've had sleepovers and watched a bunch of Halloween movies you also loved as a kid, like Halloweentown and Hocus Pocus. There was even the time when you went on a camping trip, made s'mores, and taught your niece about constellations and zodiac signs. She talks about those memories and moments all the time, so you're bound to get one question very soon: "Are we doing anything together this weekend?"
If I had to take a wild guess, you don't want to have to come up with an answer on the spot. You want to have a detailed itinerary or plan that'll steal a piece of her heart. Will these five staycation ideas do the trick? I sure hope so.