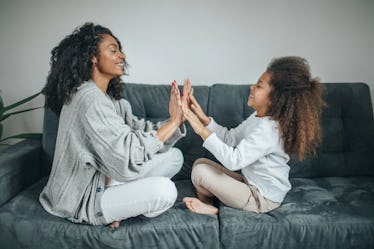 7 Sweet Traditions To Start With Your Niece Now & Continue Forever
Studio Firma/Stocksy
You're two peas in a pod. We love our families, no matter how crazy they might be. They keep us grounded, teach us all the life lessons we need to know, and give us a million laughs and memories in between. In your family, you hold a very special role. You're a daughter, cousin, and maybe a sister, too. But, when you become an aunt, you're a whole new kind of special to someone. Your niece will be a constant source of energy and light in your life, and will seriously put adulting in perspective. For that reason, you'll want to keep her close, and maybe consider one of these traditions to start with your niece.
Our parents, in particular, are great for some guidance and making sure we always give everything our best shot. Our grandparents are the only ones who can teach us the life lessons that still apply from one generation to the next — how to be aggressive with your dreams, follow your heart, or find strength in life's stickier situations. And our cousins are kind of like our best friends disguised as family members.
Your niece will be the only one, though, to remind you to dance like nobody is watching and never take life too seriously. To her, you're the fun one in the family and she'll look up to you for advice or just a listening ear. You don't want to be just any aunt — you want to be the cool aunt. So, start one of these seven traditions with your niece now and continue them forever.