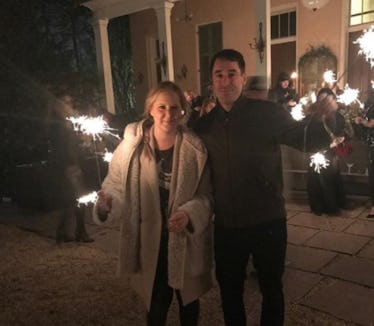 These Details About Amy Schumer & Chris Fischer's Marriage Are Seriously So Sweet
Instagram/Amy Schumer
I'm still recovering from Amy Schumer's surprise wedding. You guysss, I LOVE SURPRISES! Just one day before Valentine's Day, fans found out the hilarious comedian tied the knot with her semi-new boyfriend in a spontaneous Malibu wedding, and it's the best. New details about Amy Schumer and Chris Fischer's marriage are seriously so sweet and prove these two are meant to be. So take a hike, haters.
Schumer and Fischer said their nuptials in front of 80 of their close friends and family at a beachside home in Malibu, California. While reports say the wedding was fairly on-the-fly, Schumer still stunned in a full-on white wedding gown and had two glowing bridesmaids by her side. As soon as rumors hit the public, Schumer confirmed her wedding on Instagram by posting a series of precious photos from the day, with the simple caption, "Yup."
As the day went on, more and more pictures surfaced and fans could see some of Schumer's celeb besties like Jennifer Lawrence, Judd Apatow, and Larry David were in attendance. Comedian John Early officiated in character as "Vicky" from the series The Characters, and Schumer and Fischer's two little, black dogs had a moment down the aisle as well.
It was just the best.
Obviously, fans were eating up the star-studded event, but I did just have one question: WHAT ABOUT CHRIS, YA'LL?
Originally, all I knew was that Schumer recently broke up with her ex-boyfriend of one and a half years, Ben Hanisch, and then the next time I turned around she was marrying Fischer. Schumer first mentioned she was "dating a new guy" in June of 2017, and now, here we are. However, a new source recently explained to People what drew Schumer to Fischer in the first place. And honestly, it makes so much sense.
The source explained,
He's totally not into the celebrity world and she likes how off the grid he is. He's a really genuine guy who's very close to his family.
DUH. It must be a total breath of fresh air for Schumer to be with someone who is out of the limelight and for all intents and purposes, "normal." Sure, he's a famous world chef and author, but he's not, like, on TV or anything. You guys see the difference?
Everyone who has spent time around Schumer and Fischer confirm it's the real deal. Bestie J. Law told Entertainment Tonight,
His vows were stunning. It's when two people really love each other and they really mean it, it shows, and it was a beautiful ceremony and an amazing time. I couldn't be happier for them.
Schumer's other close pal Bridgette Everett told US Weekly Amy is "very happy" and "head over heels in love."
In keeping with the low-key nature of her and Fischer's relationship, the wedding was pretty last minute. An insider explained,
It was a very chill wedding. It was thrown together last minute. Most of the guests found out the wedding was happening on Tuesday from a text message sent out by Amy on Sunday. It was like, 'Hey, this is happening. If you can make it, great. If not, no worries.' People were in and out all night. It was a gorgeous day. Everyone was having a good time.
What I would give to have been a fly on the wall at this wedding.
Wherever Schumer and Fischer are right now, I hope they're enjoying some much deserved downtime away from cameras and media, and will hopefully continue to fill fans in on their marriage over time.
Check out the entire Gen Why series and other videos on Facebook and the Bustle app across Apple TV, Roku, and Amazon Fire TV.