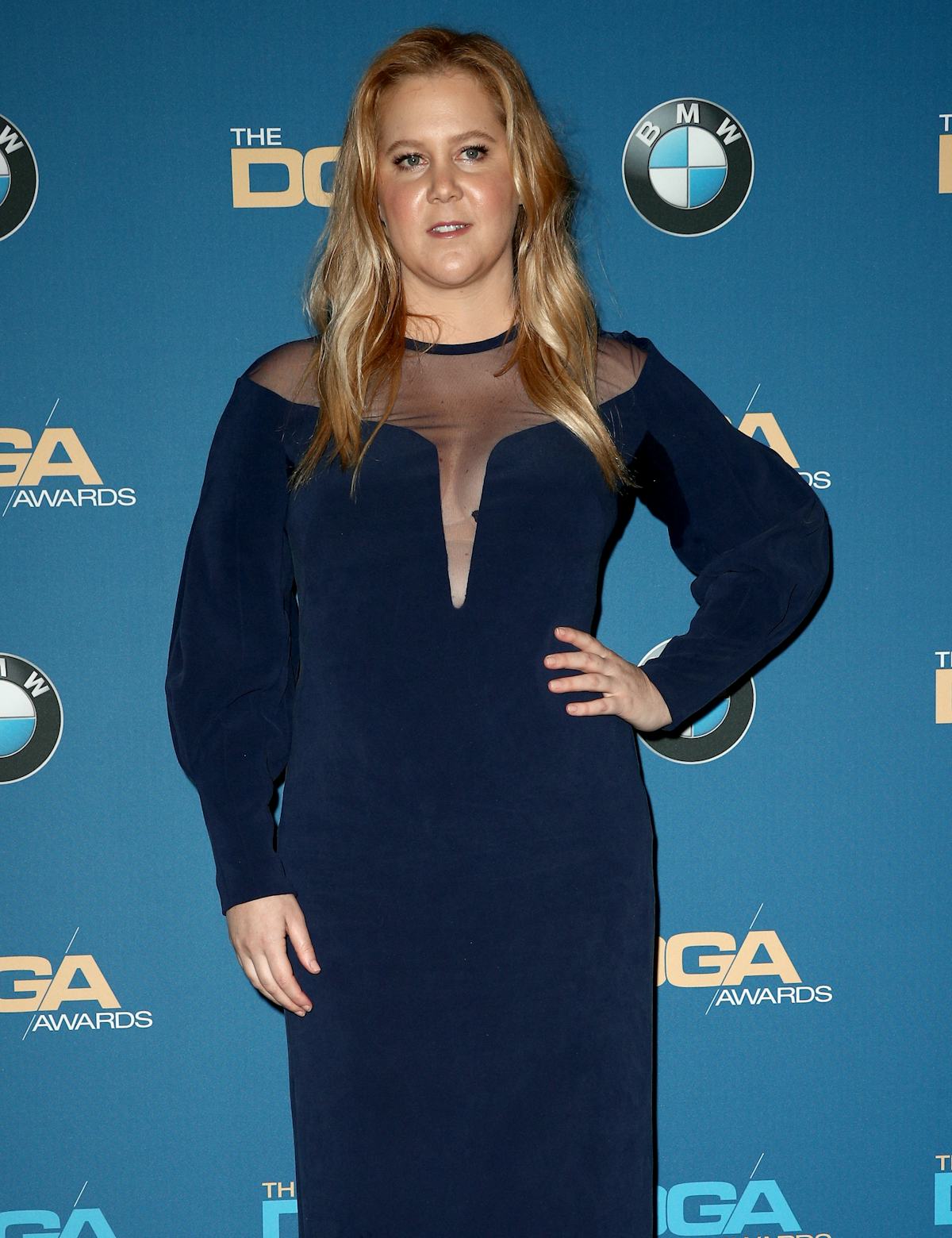 The Way Amy Schumer & Chris Fischer Met Proves Their Relationship Was Meant To Be
Frederick M. Brown/Getty Images Entertainment/Getty Images
Talk about a romantic time for a wedding: On Tuesday, Feb. 13, Amy Schumer married her boyfriend, chef Chris Fischer, just days after confirming their relationship on social media. The couple have kept their relationship pretty quiet, so when Schumer brought a ~mystery man~ to Ellen DeGeneres' 60th birthday party, heads started to turn to try and see who he was. When she posted a photo of her kissing this man, it was confirmed that, yep, his name was Chris Fischer, and he and Schumer were officially an item. Well it turns out that now, they're no longer dating, but they're MARRIED, and you guys, I'm freaking out! Love that our girl Amy found happiness with someone. So, how did Amy Schumer and Chris Fischer meet? According to E! Online, Fischer and Schumer met through her personal assistant, who is — drum roll, please — Fischer's sister. While the rest of the details of how they met are unclear, we do know that, according to People, the couple "were spotted chatting over a candlelit dinner and drank wine" back in November. Well, it's time to trade that wine for some champagne, you guys, because clearly it's celebrating time.
Let's rewind a bit here, so we don't get ahead of ourselves.
As we mentioned before, the couple were first seen together back in November of last year, but Schumer's rep declined to comment on whether or not the dinner was romantic or not. But c'mon, people. Dinner by candlelight? Wine? Let's put two and two together.
This was also the first time that Schumer was spotted out with a new man since her breakup with Ben Hanisch, so it seemed like this was looking a lot like a date for the comedian. You go, girl.
BUT!
Even though there was photographic evidence of the pair together in November, it seems that Schumer was talking about dating someone new back in June at the Hilarity for Charity Variety Show in New York City. She said, "I'm dating this new dude. He's awesome, he's like Stephen Hawking, sexually," (LOL) so perhaps Fischer has been involved in her life longer than we initially thought.
Then, in January, the two were spotted once more together in New York City at NBC Studios attending Saturday Night Live to support Jessica Chastain, who was hosting that night.
Then it all became official: Schumer and Fischer smooched at the photobooth at Ellen DeGeneres' birthday party, and the next day, Schumer posted the pic to Instagram:
Which brings us to the wedding, which was kept very hush-hush. An insider told Us that the newlyweds "rented house in Malibu in front of celebrities including Jennifer Lawrence, Jennifer Aniston, Larry David, David Spade and Judd Apatow," and that "A comedian officiated the nuptials, and a strict no-photos policy was enforced."
And even though guests did well by refraining from taking photos (boo!), Schumer posted some pictures of the beautiful day to her Instagram for everyone to cry over (yay!):
Look at her in a beautiful wedding dress. Look at the puppers at the end of the aisle. Look at Amy and Chris walking hand-in-hand, with guests clapping behind them.
That's it, life is fully complete now.
And even though their relationship has seemingly only been going on for a few months, I still am loving that the pair got hitched.
I'm also kind of loving that Schumer and Fischer reportedly met somewhat organically, unlike how Schumer met her previous boyfriend, Ben Hanisch , which was on the Bumble dating app. I mean, it would have been even more adorable if she stumbled across Beetlebung Farm, where Fischer works in Chillmark, Massachusetts, and, upon locking eyes with her, Fischer invited her to a private homemade dinner. Is that a little bit too extra? Whatever, I don't care. In my head, it was glorious and delicious.
I also just need to point out that the two share a similar passion when it comes to farming: Fischer's family has owned Beetlebung Farm for decades, and he just recently moved back to operate the land, hoping to expand it into a restaurant.
Do you know who else had a family farm?
YUP. Amy Schumer. Her father unfortunately had to sell the farm when he was diagnosed with multiple sclerosis, but in 2016, Amy surprised her dad and bought back the farm as an early Christmas present.
In a touching Instagram post, she wrote,
Video from the farm when I was running away in the cornfield and my dad was taunting me because I wanted him to come with me. We lost the farm when we lost everything else. But today I got to buy it back for him.
BRB, sobbing.
Both have family farms, so I *think* it's pretty clear that these two are soulmates.