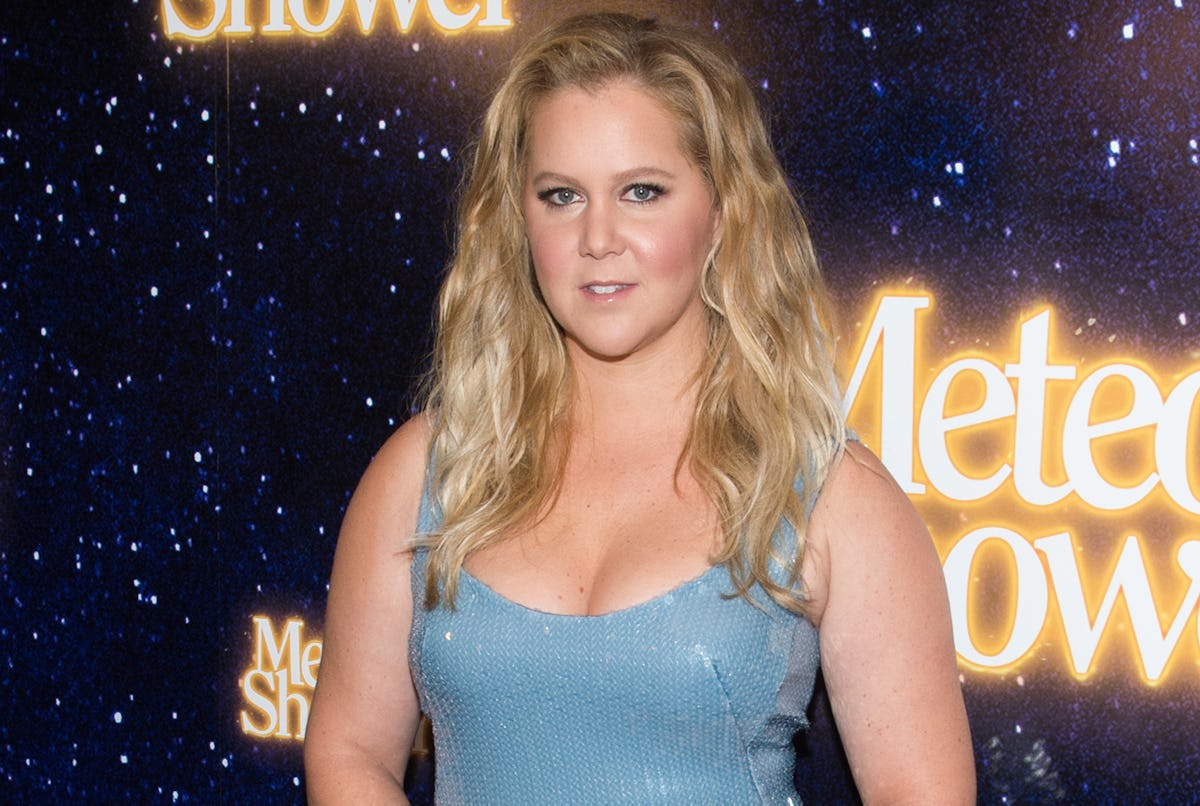 Amy Schumer & Chris Fischer Haven't Been Together As Long As You'd Think
Amy Schumer got married, people!! According to Us Weekly, Amy Schumer and chef Chris Fischer got married on Tuesday, Feb. 13, in Malibu in a ceremony that was put together very quickly. But how long have Amy Schumer and Chris Fischer been together? They only started dating in 2017, so not that long. But hey, when you know, you know! A source told Us Weekly that Schumer and Fischer tied the knot in a rented house in Malibu on Feb. 13 after sending out text invitations to loved ones on Sunday, Feb. 11. The texts let people know they were getting married just two days later. Honestly, this method of wedding planning is so freaking appealing to me, I might just do it myself one day. The source told the outlet,
It was a very chill wedding. It was thrown together last minute. Most of the guests found out the wedding was happening on Tuesday from a text message sent out by Amy on Sunday. It was like, 'Hey, this is happening. If you can make it, great. If not, no worries.' People were in and out all night. It was a gorgeous day. Everyone was having a good time.
The source also confirmed Jennifer Lawrence was there, as well as Judd Apatow, Jennifer Aniston, Larry David, and David Spade.
Schumer posted photos from the special day on her Instagram, confirming all the news to be true. Why are these photos are making me tear up?!
Schumer and Fischer had kept their relationship pretty much entirely under wraps until Ellen DeGeneres' 60th birthday party this weekend, after which she posted a photo of her and Fischer kissing on Instagram.
So they knew they were getting married in just a matter of days when this photo was taken, and they didn't tell us?! Honestly, Amy, I'm hurt.
Before Schumer and Fischer started dating, Schumer dated furniture designer Ben Hanisch. They broke up in 2017 and it's not entirely clear when Schumer started dating Fischer after that. But what we do know is Fischer's sister is Schumer's personal assistant, according to E! News, so that's most likely where they met. Fischer also had a cameo on an episode of Inside Amy Schumer in 2016 (likely also a result of Fischer being the sibling of Schumer's assistant). It sounds like the two have known each other for a bit but never dated, but when they finally got together, everything clicked.
Rumors of their relationship first started in November 2017 when the two were seen getting dinner together. So at the very least, Schumer and Fischer have been dating for four months. But it's entirely possible they successfully kept their relationship for months before the rumors started. Schumer and Hanisch broke things off in May of 2017 after dating for two years. So it's possible that Schumer and Fischer started dating anytime in the six months between May and November. According to People, Schumer started making jokes about dating a new guy starting in June 2017. She told the crowd at the Hilarity for Charity Variety Show in New York City: "I'm dating this new dude. He's awesome, he's like Stephen Hawking, sexually." Hmm, could she have been talking about Fischer?
Fischer is a chef who lives on Martha's Vineyard. He has an impressive resume that includes being sous chef to Mario Batali, winning prestigious culinary awards, and previously owning a restaurant the Obamas credit as one of their favorites.
According to E! News, Fischer's cookbook, Beetlebung Farm Cookbook, won the James Beard award in 2016. He used to run a restaurant on Martha's Vineyard at the Beach Plum Inn that Barack and Michelle Obama have said is their favorite to go to on a date while visiting Martha's Vineyard. Now, he runs the farm his family has owned since 1961 n Chilmark, Massachusetts. It's called Beetlebung Farm, and Fischer is reportedly planning to turn part of it into a restaurant. One part of the 5.7-acre farm has been turned into a produce shop already, so Fischer really does have big plans for the place. Whether or not Schumer will move to Martha's Vineyard with Fischer now that they're married is unclear, but congrats to the newlyweds!!