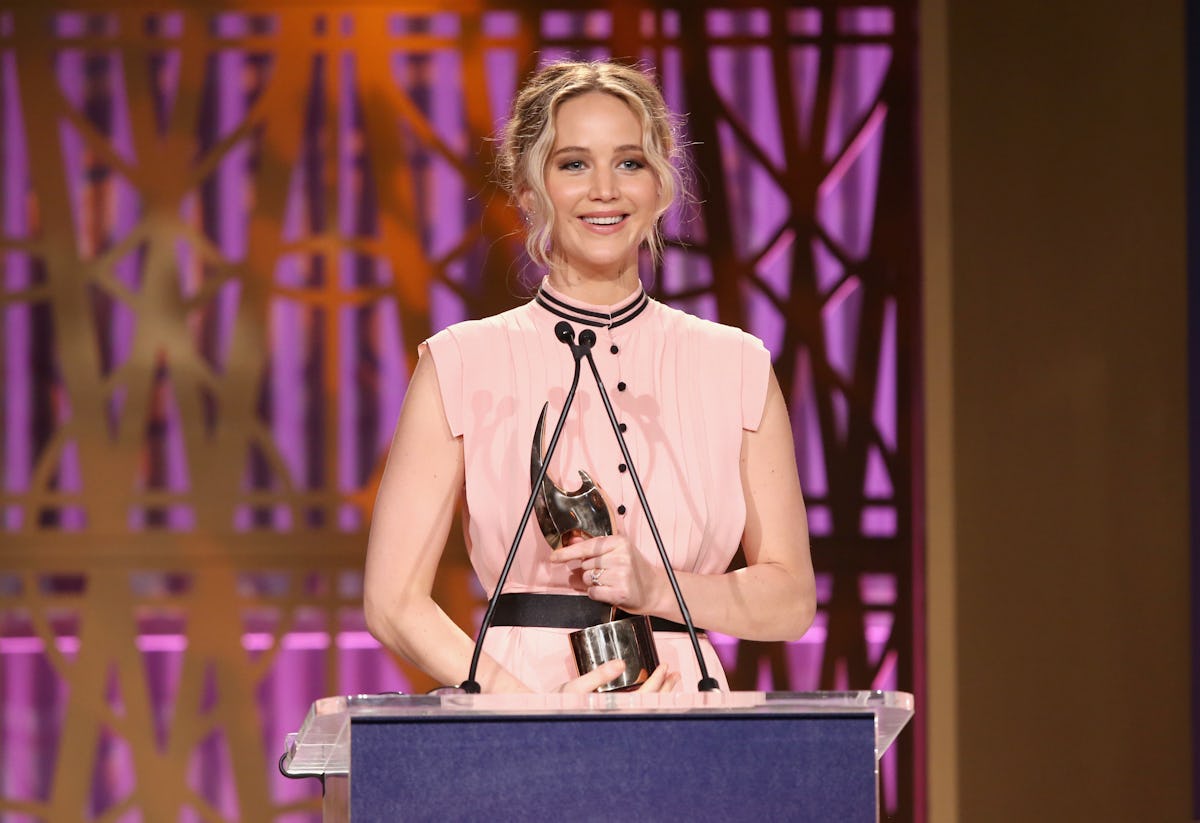 J. Law Opened Up About Amy Schumer's Wedding & Her Quote Will Make You Tear Up
Jesse Grant/Getty Images Entertainment/Getty Images
Amy Schumer got married and gave us hope that love is still alive. The comedian surprised everyone when she popped up on social media in a wedding dress — and it wasn't a joke. Quite the opposite, actually, Schumer and her new hubby Chris Fischer look so, so happy together. The guest list was packed with famous faces, including Jennifer Lawrence. The actress obviously loves to celebrate, and the wedding of her BFF was no exception. Jennifer Lawrence's quotes about Amy Schumer's wedding will make you sob and (of course) laugh a little.
Amy Schumer tied the knot with her chef boyfriend on Feb. 13 after texting out invites on Feb. 11. Honestly, I am digging Schumer's laidback wedding planning vibes. She stunned in a simple, spaghetti-strap dress with lots of lace detailing. A source told Us Weekly about the wedding,
It was a very chill wedding. It was thrown together last minute. Most of the guests found out the wedding was happening on Tuesday from a text message sent out by Amy on Sunday. It was like, 'Hey, this is happening. If you can make it, great. If not, no worries.' People were in and out all night. It was a gorgeous day. Everyone was having a good time.
Judd Apatow, Jennifer Aniston, Larry David, and David Spade were all seen in attendance along with Jennifer Lawrence. Although the wedding was beautiful and partygoers went up on Tuesday, Lawrence still had to work the rest of the week.
The actress sat down with Entertainment Tonight to talk about her new movie, Red Sparrow, and was able to dish a bit about the wedding. She said,
It was beautiful. It was very sudden, but it was, I was sobbing the whole — his vows were stunning. It's when two people really love each other and they really mean it, it shows, and it was a beautiful ceremony and an amazing time. I couldn't be happier for them.
Sentimental AF. In true J. Law fashion, she did mix in a little humor. At the wedding, she wore a high-neck, sleeveless, pink Philosophy dress. She commented on photos of her dress,
Notice my shirt was accidentally undone the whole time. In every wedding photo all of my buttons were undone. It looks like I was like, 'Oh, you thought this was going to be about you?'
This is why we love you, Jen. Seriously though, Schumer and Fischer seem so happy together. Although little is known about the specifics of their relationship, there are a few puzzle pieces fans have been able to put together. Fischer's sister is Schumer's personal assistant, according to E! News, so that's most likely where they met. Fischer even appeared in a 2016 episode of Inside Amy Schumer — most likely because of his sister's connection.
Despite his cameo, Fischer is not an actor. He is actually a very successful chef with a mile-long resume that includes being sous chef to Mario Batali, winning a James Beard award in 2016, and previously owning a restaurant the Obamas credit as one of their favorites.
Rumors that Fischer and Schumer had crossed out of the friend-zone started when they were photographed at dinner together in November of 2017. That would mean they were together for four months before marrying.
There is a pretty limited window for when the two could have gotten together. Schumer ended her previous relationship with furniture designer Ben Hanisch in May of 2017 after two years.
According to People, Schumer started cracking jokes about dating a new guy in June 2017. She told the crowd at the Hilarity for Charity Variety Show in New York City: "I'm dating this new dude. He's awesome, he's like Stephen Hawking, sexually." It's not confirmed if this was about Fischer, but if it was that would mean the two were dating for eight months before the wedding.
Either way, it looks like things have clicked in Amy Schumer's love life. She's never looked happier, and I can't wait to see what the rest of this year has in store for her.
Check out the entire Gen Why series and other videos on Facebook and the Bustle app across Apple TV, Roku, and Amazon Fire TV.