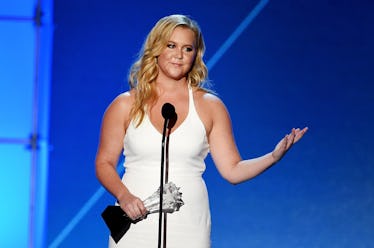 Amy Schumer Went IG Official With Her New Boyfriend & You're Gonna Love Him Too
Kevin Winter/Getty Images Entertainment/Getty Images
This is turning out to be quite the big week for comedy darling Amy Schumer. On Feb. 9, the Snatched star dropped the trailer to her upcoming film, I Feel Pretty, on Twitter and just days later on Feb. 11, the comedian took to social media again to share some other big news... this time to confirm her new relationship in a full-on PDA Instagram shot. But fans want to know, exactly who is Chris Fischer, the guy Schumer is dating?
Schumer's new bae is a well-known chef and author of Beetlebung Farm Cookbook, named after his family's farm in Massachusetts, according to E!. In addition to being a farmer, Fischer has worked as a sous chef under Mario Batali in New York City.
In November 2017, Us Weekly posted a photo of Schumer and Fischer enjoying a candlelit dinner in NYC. Though Us Weekly made the call that they were in fact an item, Schumer never confirmed the rumors... until now. On Feb. 11, Schumer decided to finally make her relationship with Fischer Instagram official, by posting a picture of the two at Ellen Degeneres' 60th birthday celebration. The photo shows Schumer and Fischer sharing a smooch with caption, "Happy Birthday @theellenshow thank you for having us!"
So there you have it folks!
Unless you're a committed foodie, you may not have heard of Fischer before, but he's a very successful chef. He grew up in Martha's Vineyard, which is where Beetlebung Farm is located. In addition to being, obviously, a farm, Fischer opened the Beetlebung Farm Market last summer and told Boston Magazine he wants to start serving meals there in the future. In June 2015, he was profiled by local newspaper The Vineyard Gazette, where he talked about how close he is with his family and how the farm was a central part of his childhood.
He told the Gazette,
As I got older I came to appreciate family meals there ... We'd gather for lunch every day in the summer time, and looking back on it, it was miraculous, but it was so normal. We'd have four generations of our family sitting outside sharing lunch on any day of the week.
Fischer also wrote a weekly column for the paper called "Farm To Typewriter," so you can check out some of his articles to get a better sense of Schumer's new boyfriend. It seems like she has found a genuinely sweet, hardworking guy, and he's not so hard on the eyes either...
This is the first real romantic action we've seen from Schumer in a while.
Back in May 2017, Schumer and hunky furniture crafting boyfriend, Ben Hanisch split up (by the way, Ben, if you're reading this, call me). The couple had been Instagram official since Schumer was invited to the White House in 2016, and posted a photo of her family and her "man" Hanisch.
In Schumer's memoir, Girl with the Lower Back Tattoo, she has a chapter about Hanisch. The couple met on Bumble, and Schumer wrote, "In my main profile picture, I was wearing sunglasses and a baseball cap with no makeup ... I also put up a picture of Sophia from The Golden Girls, Claire Danes making her cry face in Homeland, and one more normal photo where I was smiling."
Aside from speaking very highly of Hanisch in her book, the couple seemed to be doing extremely well. They were very openly lovey-dovey on social media, especially Hanisch who loved sharing photos of he and Schumer with adorable loving captions (seriously, dude, call me). So it came as a real shock to fans when the couple called it quits.
It's been a while since Hanisch and Schumer split up, and though everyone is probably really excited that Schumer has a new man, we still don't really have any idea why she and Hanisch decided to end things. Schumer has been pretty quiet about the whole thing. They kind of just disappeared after last being spotted together at the 2017 Golden Globes, the posts got fewer and fewer until there was nothing at all.
"Amy and Ben have ended their relationship after thoughtful consideration and remain friends," a rep told E! back in 2017 when the breakup was official. E! also reported that another source said, "as time went on they realized they weren't on the same page or heading in the same direction." I guess it just wasn't meant to be.
Maybe now that Schumer's relationship with Fischer is finally out in the open the two will also start sharing adorable photos and we can stop mourning the end of the Schumer/Hanisch era. OK, maybe not. We might never get over that. But it may help, and in the meantime, we can still look at Hanisch's Instagram for some beautiful furniture inspo.