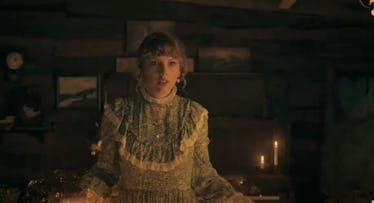 Taylor's "Willow" Video Has So Many Subtle Connections To 'Folklore' You Missed
YOUTUBE
Fans can't stop talking about Taylor Swift's "Willow" music video because there are so many hidden easter eggs. The singer explained on Instagram that Evermore is a continuation of Folklore, so fans should have seen it coming, but they didn't expect there to be this many nods toward her previous album. These connections between Taylor Swift's "Willow" and Folklore will blow everyone's minds.
Swift announced her album in a Dec. 10 Instagram, revealing Evermore happened because she and her team "just couldn't stop writing songs."
"To try and put it more poetically, it feels like we were standing on the edge of the folklorian woods and had a choice: to turn and go back or to travel further into the forest of this music. We chose to wander deeper in," she wrote. "I've never done this before. In the past I've always treated albums as one-off eras and moved onto planning the next one after an album was released. There was something different with folklore. In making it, I felt less like I was departing and more like I was returning."
Since she enjoyed writing stories from other people's perspectives on Folklore so much, she made Evermore follow a similar format. "I loved the escapism I found in these imaginary/not imaginary tales. I loved the ways you welcomed the dreamscapes and tragedies and epic tales of love lost and found into your lives," Swift explained.
Knowing the albums are connected explains why there's so many references to her Folklore songs throughout her "Willow" MV. They're subtle, so in case you missed them, you can see all the easter eggs below.
1. "Cardigan"
"Willow" literally picks up right where "Cardigan" left off. The star is even wearing the same cardigan she wore in her previous MV. This was the most obvious nod to Folklore, but the other nods weren't so noticeable.
2. "Invisible String"
After the "Cardigan" scene, viewers see Swift following a golden thread in the forest. Since it led the star to her love interest, it could reference her Folklore track "Invisible String," during which she sings, "Isn't it just so pretty to think all along there was some invisible string tying you to me?" as well as "One single thread of gold tied me to you."
3. "Mirror Ball" & "The Lakes"
The part when Swift looks into the lake and sees her love interest's reflection could also reference her song "Mirror Ball" or "The Lakes."
4. "Seven"
Swift's "Seven" is about childhood. In it, she sings about playing pretend at seven years old: "I think you should come live with me and we can be pirates." With this in mind, the scene with Swift's and Taeok Lee's younger selves seems to bring the "Seven" lyrics to life. Plus, viewers see the "Invisible String" here once again.
5. "Mad Woman"
Finally, she could be referencing "Mad Woman" at the part where we see Swift wearing a dark cloak while performing a coven-like ritual.
"Now I breathe flames each time I talk/ My cannons all firin' at your yacht/ They say 'move on,' but you know I won't/ And women like hunting witches, too," the "Mad Woman" lyrics read.
Now that you know about all the Folklore nods, you need to go watch Swift's "Willow" music video again.