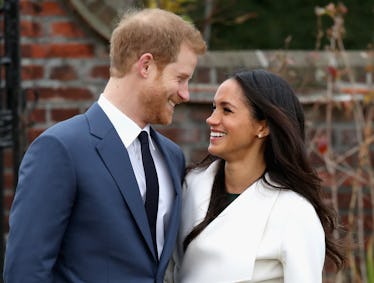 Here Are All The Celebrities Who Attended The Royal Wedding & I'm So, So Jealous
Chris Jackson/Getty Images Entertainment/Getty Images
Here comes the bride! Prince Harry and Meghan Markle's wedding day kicked off on Saturday, May 19, in a wedding that's probably the most aesthetically pleasing thing I will ever see in my lifetime. Markle, of course, was an American celebrity in her own right before she started dating Prince Harry, so there were naturally some famous friends at the ceremony as well. Lots of celebrities attended the royal wedding on May 19 and there were fascinator hats galore as they all made their way into Windsor Castle. If you're thinking I ate up every single bit of this British pageant show on steroids, you are correct. I live for this stuff. It's the extra lifestyle of my dreams.
So, which of Harry and Meghan's famous friends attended their nuptials? Priyanka Chopra was there, for starters, looking as glam as ever, Serena Williams was there, Idris Elba was there, OPRAH WAS THERE. The Obamas sadly were not there, despite their close friendship with Prince Harry. An announcement had been made months ago, however, that political figures would not be invited to the wedding, so we knew all along that Barack and Michelle Obama weren't going to be there, but damn if it still doesn't hurt.
Here are all of the celebrities who attended Prince Harry and Meghan Markle's wedding:
Priyanka Chopra
Serena Williams and Alexis Ohanian
Oprah
Idris Elba
James Blunt
George and Amal Clooney
David and Victoria Beckham
Carey Mulligan and Marcus Mumford
Elton John
James Corden
Priyanka Chopra and Serena Williams were thought to be possibilities for Meghan Markle's maid of honor. Lots of people thought Jessica Mulroney (a stylist/one of Markle's best friends) was the mostly likely choice to be Meghan Markle's maid of honor, but a few weeks before the wedding, it was announced that Markle chose not to have a maid of honor at all because she didn't want any of her friends to feel slighted. A spokesperson for the royal family told People, "She has a very close-knit circle of friends and she didn't want to choose one over another. All have been actively involved in helping her prepare for the day and will be there in the days beforehand." Prince William did act as Prince Harry's best man, however, just like Harry did for his and Kate Middleton's wedding back in 2011.
The day was as majestic as everyone expected it would be. Unfortunately, Markle's father couldn't make it to the wedding due to health complications. After a week of media mess following Thomas Markle's staged paparazzi photos and then a serious heart surgery, Markle released a rare statement on May 17 confirming that her father wouldn't be in attendance at the wedding.
The statement said,
Sadly, my father will not be attending our wedding. I have always cared for my father and hope he can be given the space he needs to focus on his health. I would like to thank everyone who has offered generous messages of support. Please know how much Harry and I look forward to sharing our special day with you on Saturday.
The statement from Kensington Palace said,
Ms. Meghan Markle has asked His Royal Highness The Prince of Wales to accompany her down the aisle of the Quire of St. George's Chapel on her Wedding Day. The Prince of Wales is pleased to be able to welcome Ms. Markle to The Royal Family in this way.
The plan the entire time was reportedly for Markle to walk herself down the aisle, and then her father would walk her up the last part of the aisle. Now Prince Charles will be filling that role.
Congrats, Meghan and Harry! Your wedding day has truly been a sight to behold.