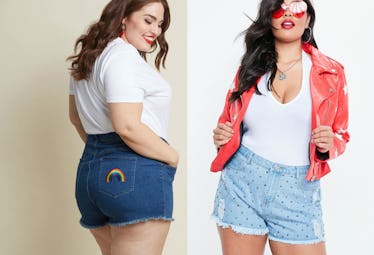 These Denim Shorts Aren't Your Average Cutoffs & Will Set Your Summer Style On Fire
Modcloth // Missguided
We've officially hit that so-hot-we're-constantly-sticky weather, meaning the less clothing, the better. It's the perfect time to do a deep dive into summer 2018 denim shorts trends and figure out which cropped styles you'll want to invest in and sport all season long. Thanks to the fact that denim remains a staple within the collections of every designer ever, therefore inspiring more affordable retailers to offer a bevy of styles, I can guarantee that no matter what kind of short order you want, there will be something for you.
No longer are denim shorts something you throw on as an afterthought simply because they go with everything. While denim does serve as a neutral, shorts cut from the fabric have become so well-designed that they are now often the focal point of a look — or at the very least, a worthy accomplice to whatever cool top you might pair them with. From washes and embellishments to lengths and button style, the ways in which shorts can be stylized are as varied as they are rad. Below, you'll find five of the biggest denim shorts trends for this summer, with options to shop for each. Seeing as bermuda shorts are having a renaissance, you'll see plenty of them sprinkled in. If Daisy Dukes aren't your thing, I've got you covered. Literally.
What A Stitch
Designers the likes of Jeremy Scott and House of Holland livened up their spring 2018 denim offerings via bright, Technicolor embroidery details in shapes ranging from flowers to coral and more. Why not add a punch of vivid brightness to your summer wardrobe via shorts embodying the trend? Pair them with a plain top for a simple yet impactful look, or go with something printed to prove your mix-master status.
Cherry print is the sweetest trend of the season, so naturally, I had to include a pair of shorts emblazoned with the fruit.
Rainbows are always a good idea, and seeing as June is LGBTQ Pride Month, what better time to invest in a pair of shorts emblazoned with the motif?
Denim In Distress
Raggedy, distressed denim is nothing new. But this season, styles that look especially worn — like, so worn even your dad would tell you they're not worth wearing — are considered the apex of cool.
Party in the front, business in the back.
Fringed to perfection, these two-tone shorts pack double the retro punch.
Shine Theory
Blindingly blinged-out denim is one of the most fun trends to wear, at least in my book. You can pair it with pretty much anything, and it transitions from day to night seamlessly. Sheen queen, indeed.
There is no such thing as too many crystals.
The perfect dazzling shorts to dance under a disco ball in.
Fine Prints
Blue and black denim is rad and all, but printed shorts pack an extra fun punch. From animal prints to florals, no pattern is off-limits. They're an extra easy way to add spice to any look.
Tiny flowers, huge impact.
Channel your inner wild child in a pair of animal-print shorts. Zebra and leopard are two of my favorites to rock.
Sugar Coated
If you haven't noticed, pastels are in for summer, especially a certain shade called millennial lilac. Whether you want to dress in light, fluffy hues from head to toe or simply integrate them with one statement piece is up to you. Either way, you'll be looking all kinds of sweet.
It's like wearable cotton candy with a cool distressed edge.
Millennial lilac plus a Bermuda silhouette and room for maximal comfort? Dream shorts.