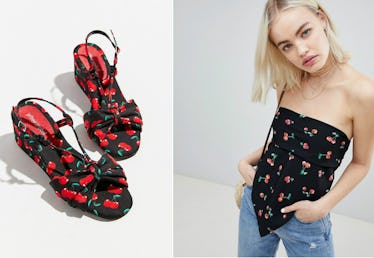 Cherry Print Is One Of Summer's Biggest Fashion Trends & It's So Much Sweeter Than Florals
Urban Outfitters/ ASOS
If there's one thing that I've had my eye on this summer it's a cool, flirty cherry-print dress. Along with versatile black tops and blue denim, the color red has become a staple in my wardrobe this year and anytime I can infuse it into my daily look, I do. Whether that means painting on a brick-hued lip to offset my all-black outfit or wearing my favorite floral dress by French brand Réalisation Par (you've definitely seen models wearing it all over Instagram and it's because it really is that good), the fiery hue has become my new go-to. And what better way to wear cherry red than in actual cherry form?
On one hand, the fruit motif is super adorable and sweet but on the other, it also has this rad, edgy association. (The Runaways' "Cherry Bomb," anyone?) Depending on how its incorporated into a piece of clothing or accessory, it can go either way. Personally, I prefer a more grungy '90s look so a dress featuring red cherries against a dark background is what I'm on the hunt for. No matter your taste, I rounded up 15 of the best fruity fashion pieces to shop this summer. For once, being in the pits will actually be a good thing.
Draw Straws
If this isn't the cutest vacation bag I've ever seen then I don't know what is. Made of woven straw (straw bags are trending, FYI!), it features a top handle and cross-body strap for ultimate convenience, while its fringy detailing adds a playful allure. Perfect for brunch, the beach, and more.
Scarfed Down
Everything I could want in a '90s-inspired summer top. Made to look a bandana that's been folded and tied around the back, this shirt boasts a bright cherry motif and neckline that won't result in crazy tan lines.
Scarlet Letters
One of my favorite tees ever. It comes in multiple colors so you can pick which one fits your vibe best. A loose interpretation of "cherry print"? Yes. But so worth it.
Cherry Of My Eye
I've been lusting after this dress ever since it was released. It's not the cheapest of wardrobe additions, so it's something I'll have to save up for. The wait will make it that much sweeter.
Beetlejuice
Pair this bikini top with plain black briefs, striped Adidas track pants, or high-waisted shorts, and you'll be left with an outfit for every summery occasion.
Skirt The Issue
Nine out of 10 cherry-printed items are tops or dresses. This denim skirt, which features little fruity embellishments all over, is the cutest style rebel ever.
Sweet Feet
These with an all black outfit and cherry red lip? To die for.
Itty-Bitty
The cherries are so tiny you can't even see them but I promise, they're there! Comfy AF? Indeed.
LB(C)D
The cherry dress to wear everywhere. Featuring a classic A-line silhouette and bright, cheery motif, this dress could be dressed up or down for any event.
Gold Standard
For if cherries are your thing, but cherry red isn't.
Roll Call
Sometimes I like to feel young again... like, really, really, young. These would make me feel five or six in the coolest way ever.
Flutter By
The ruffled neckline and sleeves on this shirt are too good to exclude it! Paired with dark-wash denim and white sneakers, this top would look effortless and fresh.
Double The Fun
Wink wink.
(G)Lobe Fruit
I need these dangling cherry earrings stat! They're playful, but in that edgy, cool girl way and would add a pop of kitsch to any look.
Sweet Dreams
Forget about visions of sugarplums dancing in my head. I want motifs of cherries dancing on my body while I sleep.