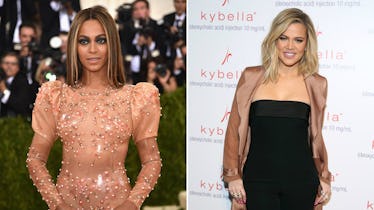 5 Celebs Who Have Had Dramatic Transformations That Will Make You Say "Damn"
Dimitrios Kambouris/Cindy Ord/Getty Images Entertainment/Getty Images
Celebrities live enviable lives, and there's really no way around that truth. They make millions (and millions, and sometimes, even more millions), they roll with a squad of A-list names, and they get to eat at the best restaurants (maybe this isn't a top priority for you, but it certainly is for me). And let's talk a bit about their wardrobe, because they are always looking fashionable as anything, flaunting designer names like it ain't no thang. Basically, celebrities live the good life, and we're all here to salivate over their lifestyle. But let me remind you that not all celebrities just appeared looking perfect from mid-air. Some have had years in the spotlight, slowly creating their own personal style. And these five celebrities have had pretty dramatic transformations: Whether they toned down their ~lewk~ or re-vamped their style completely, the years have been good to these famous faces, and we loved watching them grow into the style icons they are today.
Without further adieu, may I present to you some of Hollywood's most notable transformations. May we learn from them. May we love them. May we dare to dress like them (or at least, a slightly cheaper version of them).
Miley Cyrus: Then
At just 12 years old, Miley Cyrus gained recognition as her character on Disney's Hannah Montana in 2006 (for those of you who aren't familiar with the character, Cyrus played a student was also secretly a pop star). In the early 2000's, Cyrus was cute and bubbly, and dressed the way most tween girls from that decade did. It wasn't bad, per se, but it was by no means anything like the future Miley.
Future Miley... well, she was someone you'd want to sneak out of your house to go skinny-dipping in the river with. She shed her good-girl image and exchanged it for an edgier, sexier Miley. Cyrus is such an interesting transformation — because really, it's two-fold — so just for Miley, I'ma do a "mid" transformation picture.
Here she is at the 2015 MTV VMA's, sporting a very carefully placed strappy-top and basically just crystals as a skirt:
But like I said: Miley's looked has changed once more when she traded her eccentric fashion skin for the Miley that we've been seeing as of late.
Miley Cyrus: Now
Here is the Miley we've been seeing more of, and this was her recent look while performing at the 2018 Grammys with Elton John. Make no mistake: Cyrus still has her edge and that sass, but she's toned down her look completely here, opting for more natural makeup and softer, more polished hairstyles.
I'm all about Miley and her timeless look.
Lady Gaga: Then
Lady Gaga rarely didn't make headlines with her jaw-dropping ensembles. They were typically bold, shocking, and somewhat controversial. It would be hard to find a person who has since forgotten her raw meat gown and heels that she changed into at the 2010 MTV VMA's, and many outfits both before (and even after) turned heads because they were so outlandish.
Gaga has definitely become a fashion icon in recent years. Sometimes, she's rocking those masks that hide her face and sky-high heels. Other times, she goes for a softer, more feminine look.
Lady Gaga: Now
Gaga looked like an ethereal goddess at the 2018 Grammys red carpet. Sure, we still see some whacky wardrobe pieces from her, but for the most part, her fashion has transformed almost completely.
Khloé Kardashian: Then
Khloé is one of my favorite Kardashian sisters. She's hysterical, witty, and drop-dead gorgeous. A decade ago, Khloé was vamping up her makeup, flat-ironing her hair, and wearing thigh-high leather boots with club-worthy dresses.
Khloé Kardashian: Now
Khloé traded in her dark, waist-length hair for a shorter, lighter shade, and changed up her makeup routine. And don't even get me started on that stunner of a gown. It's like an angel and a figure skater got together and created Khloé's wardrobe. Khloé, keep on rockin' it, girl.
Chris Pratt: Then
Known to many as the lovable Andy Dwyer on Parks and Recreation, Pratt was always the funny guy who made you laugh, and it didn't seem to me like he cared all that much about his style. He's like the guys you grew up with in high school: Sweet, charming, and probably wore a lot of American Eagle polos.
Chris Pratt: Now
Damn, Chris. His suit is impeccable, his hair perfectly coiffed, and his accessories are thoughtfully added into his ensemble. Plus, he's hot as anything, so that only adds to his transformation.
Beyoncé: Then
Beyoncé has been in the game for nearly two decades (!!!), but has managed to always look stunningly gorgeous. But no matter how gorgeous any one person can be, there was literally not one soul who could escape the fashion disaster that was the early '00s. Pretty much everyone fell victim to big, shiny belts and oversized handbags, and sadly, Beyoncé was not spared.
Beyoncé: Now
As if I even had to show you an updated photo of Beyoncé, like you didn't know she looked glamorous AF. I'd talk more about how her style has evolved, but once again, you already know that. And why do you know that? Because it's Beyoncé, that's why.
Now, make way for the queen of fashion, please.