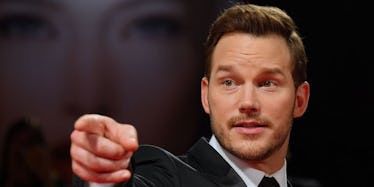 Chris Pratt Posted The Funniest Commentary For His Awkward Vanity Fair Pics
REX/Shutterstock
Look, that Chris Pratt photo shoot for Vanity Fair was bad.
I know we were all disappointed by this. Chris Pratt is charming and funny and relatable. He's also very attractive.
All we wanted were some photographs that captured that charm and attractiveness, that we could pine and objectify our hearts out.
Instead, we got an odd photo of Chris Pratt popping out of the water like a gopher.
But don't despair because these photos did bring one great thing with them: hilarious, self-deprecating commentary from the man himself.
On Thursday the 37-year-old actor shared some highly entertaining behind-the-scenes insight on this Instagram.
First, Chris confirmed the water he was in was "cold AF."
He also gave us a detailed insight into his stream of consciousness and encouraged everyone to buy the issue with possibly my favorite quote:
You can go get it at the place where they sell magazines. Rite Aid or whatever.
But at least he got to warm up by the fire after the "freakin' cold ass water."
Next, Chris gave us the scoop on this photo: He was just waiting for the shoot to start!
He wrote,
I was like, 'well guys, I'll just chill over here by my race car and rub my neck real quick. You know what I'm sayin'.'
He recalled the beer he drank on the shoot "tasted so good" and shared a nice little anecdote about beer.
Great story, Chris!
The story behind this photo is pretty straight-forward.
Chris wrote,
And here I am casually sniffing my knuckles.
While it turns out this photo has far more going on than anyone expected.
Chris wrote,
I have to credit the brilliant photographer @markseliger who discovered me wedged between these two rocks. It took him all day to pull me out. I had been stuck there for hours. I had barely enough strength to stare pensively into the distance. I mean, it was bad.
Honestly, this whole photo shoot was worth it just for that Instagram caption.
Thank you, Chris Pratt, for once again saving the day. I might just hit up Rite Aid and buy this issue after all.
Citations: Chris Pratt Pokes Fun at His 'Vanity Fair' Photoshoot in Hilarious Instagram Pics (Entertainment Tonight)