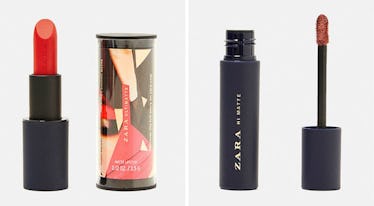 Here's What You Need To Know About Zara's New Lipstick Collection, Including When The Products Launch & More
Zara
Zara is my go-to shop for snagging the latest trends in fashion, and I've purchased many clothes — and quite a few pairs of shoes, too — throughout my years as a loyal shopper. In my college town, rocking the latest top from Zara was essential for a fun night out, and post-grad, I was able to stock up on trendy adult pieces that nailed the difficult balance between stylish and sophisticated. I'm not alone in my love for the brand, which is why the news of a Zara lipstick collection has so many shopaholics and beauty lovers alike feeling over the moon. They've totally nailed the fashion and accessories game, so it's no surprise that beauty is the brand's next step, and with their makeup line launching just before the holidays, don't be surprised if it's at the top of practically everybody's wishlist.
According to a press release reported on by Allure, everyone's favorite fast fashion retailer will be launching "a comprehensive collection of lipsticks designed in L.A. and made in France." Keep in mind, the brand did have color cosmetics way back in 2007, but this lipstick line is totally new, and it represents the launch of a new era of Zara beauty products, one with chic, matte black packaging and shades and formulas as on-trend as the clothes they'll be sold alongside.
Exciting, isn't it? According to Allure, there will be more than one lippie formula to choose from, although for the time being, both will be matte. Shoppers can expect "unstoppable, one-stroke-application, full matte liquid lipsticks," as well as "velvety, highly pigmented, and very comfortable matte lipsticks," says the Zara press release.
The former will be the known as the Hi Matte Liquid Lipsticks, which will retail for $10, according to PopSugar:
The bullet lippies will be called the Ultimatte Lipsticks, and retail for $13:
In total, there will be twelve shades that include a wide range of nudes, berries, reds, and even a cool-toned lavendar. In addition to the solo lip products, the brand will debut The Ultimatte Trio, a $26 lip kit that contains one Hi Matte Liquid Lipstick, one Ultimatte Lipstick, and an accompanying lip liner.
The trio is available in a warm-toned nude hue that will suit a variety of skintones, and is packaged in a Zara-branded matte black tin:
So, how to get your hands on these new lippies? The brand has yet to post about its new beauty line on any forms of social media, but the products will go live on the Zara website on December 5, when beauty lovers everywhere will no doubt be adding all 12 shades to cart as fast as their fingers can click.
I've entrusted Zara with helping me stay ahead of trends including teddy bear coats, luxe velvet footwear, and even fuzzy handbags, so it's safe to say they can handle launching a lipstick or two with relative ease and — most likely — great success. All will be revealed on December 5 when the lipsticks officially launch and our matte lip game is forever enhanced.