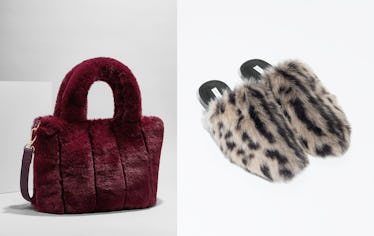 16 Faux Fur Accessories That Will Give You The Cutest Of Fuzzy Feelings
Bauble Bar / & Other Stories
There's a fur-free movement afoot within the fashion world, and it is giving me all of the fuzzy feelings. It's slightly ironic seeing as faux fur accessories are trending for fall, but it's most definitely an ironic step in the right direction.
On Tuesday, Los Angeles' city council voted unanimously to proceed with a motion that prohibits the sale of products made entirely or partly of fur, becoming the largest city in the United States to do so. (San Francisco announced earlier this year that it would ban the sale of fur, effective January 1, 2019.) While the ban won't officially go into effect until 24 months after the council passes the final language on the motion, it's exciting nonetheless to know that a more ethical future lies ahead when it comes to LA-produced fashion.
"It's 2018 — there's no excuse for being complicit in this inhumane and unnecessary trade," city council member Bob Blumenfield stated in an interview with Teen Vogue. "With this vote, we are telling the world that Angelenos care about animal welfare. Thanks to council member Paul Koretz and Marc Ching from Animal Hope and Wellness Foundation for partnering in this effort and helping galvanize so many voices. We will continue to be a leader in animal welfare efforts and must work with other cities and states until this vile practice is ended across our nation."
This motion couldn't have come at a more appropriate or impactful time. Designers and retailers with the likes of Burberry, Gucci, Michael Kors, and Net-a-Porter have announced they will no longer use or sell fur, and London Fashion Week also went completely fur-free. There's no doubt that other labels and industry heavy-hitters will soon follow suit (and exceptional achievement in terms of ethicality and sustainability when it comes to the fashion industry), which means there's no better time to start building up your collection of faux fur items. A fuzzy coat is a good place to start but this fall is really all about furry bags, shoes, hats, and the like. Shop the best of them below.
Elle Would
If Elle Woods pre-Harvard was a hat! This uber fuzzy beret is studded with gems meaning no one would ever be able to call your cold weather style dull.
So Flashy
Use it as a camera bag as intended or simply wear it as your everyday cross body. Either way, it's the perfect size, texture, and color.
Fuzzy Feet
Slippers or just super fluffy flats? The best thing about them is that no one will ever know.
Hat Hair
If you're going to do throwback '90s style, do it right.
Stole My Heart
If you're a New Yorker then you already know how ideal this stole would be to have on you at all times during the dead of winter. It's thick, fuzzy, and the perfect thing to burrito your head and neck in.
Back It Up
Not your average school bag...way better.
Soft Glam
The perfect way to dress up your LBD for a big night out.
Sweet Thing
Soften up your beauty look via a fluff of a clip!
Full Circle
How fun is this key lime green clutch? It's another great choice when you're looking for a dressy bag to grab for a night out.
Double Digits
A pair of warm black gloves is a winter must, so why not get them in fur form?
'80s Revival
Stephanie Tanner would be stoked.
The Green Monster
Another '90s inspired bag, this mid-size backpack will hold your wallet, phone, camera, and whatever else you might be toting.
Meow!
The perfect bag to carry on Halloween if you're being a black cat.
Earn Your Stripes
The perfect way to add some color to your signature black puffer coat look.
Top Notch
For if you only want a touch of fur.
Poof!
For if you want the opposite of a touch of fur.