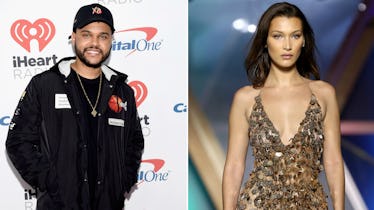 The Weeknd's Latest Photo Of Bella Hadid Is So Intimate That Their Love Is Undeniable
David Becker & John Phillips/Getty Images Entertainment/Getty Images
Some things just feel right, don't they? For example, consider Bella Hadid and The Weeknd dating. Call me nostalgic, but the universe feels more in balance when these two are together. The famous duo first began their relationship back in 2015 before calling things off in November 2016. The breakup never felt right, but fans were doing their best to be supportive and understanding, anyway. However, *TRUMPET SOUNDS!*, by summer 2018 they were back in the press and back in each other's lives. Now, a new photo further confirms it. The Weeknd's photo of Bella Hadid sleeping in his bed (I MEAN, HELLO?) is a whole new level. God, it feels good when the band is back together, doesn't it?
Technically, Bella was featured lounging in a cozy AF looking bed as part of a video series The Weeknd shared on his Instagram stories over the weekend of Aug. 26. In the video, The Weeknd flashes the camera at Hadid bundled up in white sheets before turning the screen to show their TV. By the looks of it, they were catching up on the old scary children's show, Are You Afraid Of The Dark? (I can tell from the clown on the TV. I never forget a scary clown.) It's not really an intimate video per se — it's just fun to think of these two celebrities chilling out somewhere watching TV during their downtime together. In fact, it's likely the video took place in a Los Angeles hotel where TMZ recently spotted the pair hanging out over the weekend of Aug 26.
Here's a screenshot of Hadid in bed:
And here's that creepy clown:
*Shudder.*
At first glance, I thought it was possible Hadid was snuggling with two dogs at the end of the bed, thus completing my dream scenario. But, upon further inspection, it looks like those might just be piles of luggage bags or clothing.
Whatever. I still like it.
I'm obviously not the only person swooning over the video, either. Fans are loving a sneak peek into this rekindled romance!
While the bed pic is all well and good, I'd like to kindly divert your attention back to a photo Bella's mom, Yolanda Hadid, shared of The Weeknd hanging out with a bunch of cows at the end of July. In fact, Yolanda, Bella, and the Weeknd all went a little wild (pun intended) posting pics with her family's animals.
This happened one whole month before the bed video, but it's just as weirdly nostalgia-inducing. Something about the music sensation and supermodel being surrounded by nature and large peaceful animals calms me, too.
Look at these beauties. (The animals, but The Weeknd and Bella too, I guess.)
If Bella hanging out in The Weeknd's bed isn't proof they're happier than ever, let these farm animal photos be.
Bella, The Weeknd, I don't want to start rumors or anything... but surprise celebrity engagements are kind of in these days. Maybe the cows could be your ring bearers?