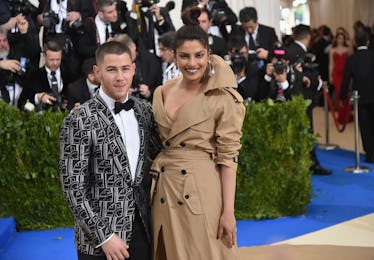 Priyanka Chopra & Nick Jonas' Body Language In Their Engagement Selfie Is So Significant
Mike Coppola/Getty Images Entertainment/Getty Images
If you're anything like me, then you are fascinated by the relationship between Nick Jonas, former Disney Channel star and arguably the hottest member of The Jonas Brothers, and fiancée Priyanka Chopra, Quantico actress and international activist. They recently announced their engagement, even though, honestly, I don't even remember them dating? It's confusing, but Nick Jonas and Priyanka Chopra's body language in their engagement selfie certainly seems to show that they're in love!
Now, if you're even more confused about the timeline of this relationship than I am, worry not, dear reader. Because seriously, these two took off faster than my dog when he gets the zoomies. But it definitely seems genuine. The 25-year-old singer and 36-year-old actress first appeared together at the 2017 Met Gala. Although at the time, Chopra told Jimmy Kimmel that they were just friends, according to Us Weekly.
It wasn't until May 2018 that the two started dating, sources told US Weekly. In July, reports of a potential engagement began to surface. So, now that the two have both taken to Instagram to let fans in on their romance, what does their body language say about their relationship?
After what felt like years of waiting after their engagement was first reported, both Jonas and Chopra took to Instagram to upload an adorable selfie. "Future Mrs. Jonas. My heart. My love," Jonas captured the photo, while Chopra wrote, "Taken.. With all my heart and soul.." Seriously, it sounds like these two are totally head over heels for each other. And I'm not the only one who thinks so.
According to body language expert Traci Brown, author of Persuasion Point: Body Language And Speech For Influence, their posed selfie is actually very telling. "We see them very posed for a selfie," Brown tells Elite Daily. "They're looking into each other's eyes at close range. That's really hard to do if you're not intimately connected."
So basically, while their relationship might seem like it was in fast-forward to onlookers, they likely have a very genuine and intimate connection.
However, considering the fact that the photo both Jonas and Chopra shared was somewhat of an official engagement announcement, Brown noticed that they didn't seem particularly thrilled. "Neither looks especially happy or excited which is odd," Brown adds. Although to be fair, every relationship is different, and the engaged couple seems to be posing in a more intense, romantic posture. Plus, we don't know when they got engaged, exactly, so it might just be that the initial excitement has calmed down a bit.
In another series of professional photos from the couple's Roka ceremony — a traditional Indian ceremony that happens before the wedding to signify the bride, groom, and families all coming together — the two are seen smiling, laughing with family, and praying together. "The only way to do this... with Family and God," Chopra captioned her post of the gorgeous photos. "Thank you all for your wishes and blessings."
They're definitely taking this thing seriously. And in their selfie, that's clear, as well. "She's got her hand on his chest both to show off her ring and to show that she owns him," Brown says. "They've pressed together — no space between them so that's a good sign that they're tight." In other words, they're partners, and that's great.
Here's to the happy couple, y'all! Hopefully, everything goes well for them!