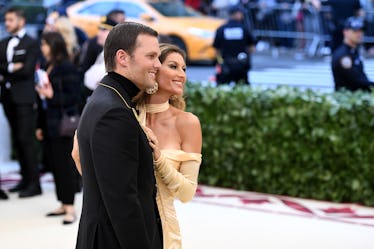 Gisele Bündchen Revealed How Tom Brady Proposed To Her & The Story Is So Intense
Noam Galai/Getty Images Entertainment/Getty Images
It seems like Tom Brady and Gisele Bündchen have been together forever, at least in terms of Hollywood celebrity relationships. The superstar Brazilian model took part in Vogue's "73 Questions" series, where she shared how her husband proposed to her. Bündchen's story about Brady's proposal reminds us they haven't always been together after all. Tom Brady proposed to Gisele Bündchen in quite a romantic way –Bündchen actually counts it as the most romantic thing her husband has ever done for her.
"When he proposed to me, he made up this whole story how my apartment was flooding, and I ran over there to try and fix the situation," Bündchen said in the video. "When I got there, the whole apartment had candles and rose petals everywhere." That's certainly one way to get her over to your place ASAP! Cue the round of awwws. Except, I guess, if you're an Eagles fan. Sorry – too soon?
Bündchen continued, "And then he went down on his knees to propose, and I'm like, 'Get up!' 'Cause he just had surgery and had three staff infections." You gotta love that Bündchen's first thought was Brady's safety instead of having that picture-perfect proposal moment. It shows above all else, she valued his health and safety.
She said to Brady, "'What are you doing?' He's like, 'I gotta go on my knees!' I'm like, 'No, get up, please!' So, um, and here we are." The major power couple has been married for nine years.
Bündchen also talked about marriage advice for other people out there. "Keep an open and loving communication," she said. Short and simple, got it.
Bündchen has lived in Boston with her football player husband for 10 years and says it feels like home because "home is where your heart is." The model regularly attends New England Patriots games, which in the Vogue video, she said she has a "champions" playlist she listens to beforehand.
The supermodel had her eyes on Brady before they began dating, when he was with then-girlfriend Bridget Moynahan. Brady and Moynahan's son, John Edward Thomas Moynahan, was born in 2007. "There are too many men in the world to go after a man who has a woman," Bündchen told the Boston Herald at the time. "Life is too short." Respect.
The two began dating in 2006, and Bündchen fell for the quarterback immediately.
"I knew right way — the first time I saw him," she told Vanity Fair. "We met through a friend. The moment I saw him, he smiled and I was like, 'That is the most beautiful, charismatic smile I've ever seen!'"
But it was more than Brady's smile that attracted Bündchen to him.
"We sat and talked for three hours. I had to go home for Christmas, but I didn't want to leave. You know that feeling of, like, you can't get enough? From the first day we met, we've never spent one day without speaking to each other."
Bündchen and Brady got married in February 2009 in Santa Monica, California. They have two children, Benjamin and Vivian (who is shown in the Vogue video above).
The model, who is valued at around $360 million while her husband makes $180 million (you go Gisele!), is on the July 2018 cover of Vogue.
And even though I myself am not a huge fan of football (go sports?), I definitely think these two are truly couple goals (Brady's political affiliations aside). Just watch them in the Vogue video; there's so much love there.
Check out the entire Gen Why series and other videos on Facebook and the Bustle app across Apple TV, Roku, and Amazon Fire TV.
Check out the "Best of Elite Daily" stream in the Bustle App for more stories just like this!