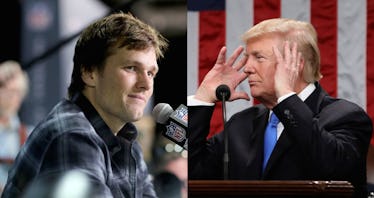 Tom Brady & Donald Trump Have Been Friends For Years, But It's Complicated
Elsa/Win McNamee/Getty Images
It may seem far-fetched, after the drama and feuding of the last year, that the president would be chums with any player of the National Football League. But one of football's greatest and most beloved (and hated!) players actually has pretty deep roots with the commander-in-chief. Tom Brady and Donald Trump's relationship is complicated, to say the least.
Brady, the famed quarterback for the New England Patriots, will take center stage this Sunday as the Patriots go head-to-head against the Philadelphia Eagles in Super Bowl LII. The game, which will be played in Minneapolis, Minnesota, starts at 6:30 p.m. ET.
The president and football star have known each other personally for at least 15 years, but Trump's controversiality has developed over the last few years as his role in the spotlight has morphed from real estate magnate to star of The Apprentice to presidential candidate, and now, the 45th president.
Brady has been a longtime friend of Trump's.
The two apparently made acquaintance in the 2002 Miss USA pageant, according to The Daily Beast, when Trump invited Brady to judge after the first-season QB won his first Super Bowl. Their friendship slowly developed over the years.
They attended a boxing match in 2005, golfed together a few times, and made public appearances here and there. FUN FACT: Brady doesn't eat tomatoes, eggplants, or mushrooms (as well as pretty much every other delicious thing). Trump doesn't drink alcohol, but the health-conscious similarities seem to end there. (The president likes his McDonalds.)
But Trump's shift into the political arena has since complicated their relationship, it seems.
In 2015, a "Make America Great Again" hat was spotted in Brady's locker; he said that Trump had given it to the coach to give to him. That same year, Brady also endorsed Trump as presidential candidate.
In a December 2015 interview with WEEI, Brady asked to be left out of the debate about then-candidate Trump's proposed ban on Muslims. "He's a good friend of mine. He's always been so supportive of me," Brady said. "He's always invited me to play golf and I've always enjoyed his company. I support all my friends in everything they do."
While it hasn't been confirmed who Brady voted for in the 2016 election, his wife, model Gisele Bündchen, indicated in an Instagram post the day prior to the election that she and Brady weren't supporting Trump.
Things certainly didn't get any easier when Trump, as president, took aim at the league Brady plays in.
Trump has been feuding with NFL players for months.
Over the last year, Trump repeatedly stated his opposition to NFL players protesting the national anthem as a statement against police brutality of people of color. Each time, Trump's comments seem to escalate the tension. The situation reached a boiling point in September 2017 when, at a rally in Alabama, Trump used explicit language to refer to the players, and called for them to be fired.
Trump's NFL antagonism has impacted his football friendships.
Brady told Kirk & Callahan that he disagreed with Trump's position, calling it "divisive." In the interview, he emphasized his support for and solidarity with his teammates. Brady linked arms with his fellow Patriots at a game in September 2017 following Trump's remarks.
"I think everyone has the right to do whatever they want to do," said Brady, when asked about the booing during the anthem. "If you don't agree, that is fine. You can voice your disagreement, I think that is great. It's part of our democracy. As long as it is done in a peaceful, respectful way, that is what our country has been all about."
In April 2017, Brady was among several Patriots players who did not attend a customary visit to the White House, per The New York Times. Brady cited issues with family as the reason for his not going.
Trump is also longtime friends with the Patriots owner, Robert Kraft. Kraft also spends lives part-time in Palm Beach, Florida — where Trump traditionally watches the Super Bowl, according to the Palm Beach Post — and donated $1 million to the president's inauguration last year. But after Trump's unsavory remarks about firing the players last fall, Kraft wasn't afraid to publicly denounce them, saying he was "deeply disappointed" by the president's tone.
"There is no greater unifier in this country than sports, and unfortunately, nothing more divisive than politics," Kraft said, per the Post. "I think our political leaders could learn a lot from the lessons of teamwork and the importance of working together toward a common goal."
In any case, it's not likely the president will be there in person to watch his pal Brady on Sunday. But if history is any guide, chances are good Trump will have something to say about the NFL.