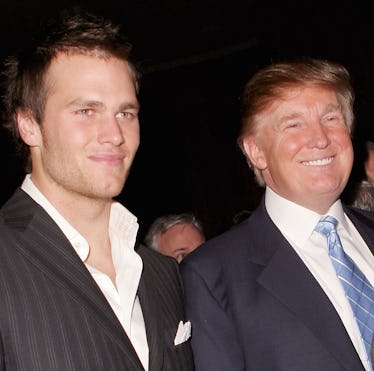 Donald Trump & Tom Brady Know Each Other, & Yes, There Are Pictures
Eric Workum/StarPix/REX/Shutterstock
The Super Bowl stirs a lot of emotions across the country, and this year's game is bringing with it a hefty load of history. The New England Patriots are back for the millionth time, lampposts in Philadelphia are greasing up, and a decent portion of the country is glancing over at the White House for a reaction. That's because Patriots quarterback Tom Brady and President Donald Trump actually have a long history of knowing each other, as photos of Trump and Brady evidence. Given that Americans either really, really love or really, really hate both of those people, that relationship garners a ton of raised eyebrows, and the Super Bowl is making everyone think about it, for better or worse.
The Trump-Brady relationship goes back a long time — almost as long as Brady's relationship with the Pats, who drafted him in 2000. According to legend (and the Daily Beast) it all started at the 2002 Miss USA pageant, which Trump ran at the time. For that pageant, Trump flew Brady out on his private jet to act as a judge. "If one thing stands out about Tom Brady, it's that he loves those women. And guess what? They love him, too," Trump told Sports Illustrated in 2002. Trump so admired Brady as far back as 2004 that he told Playboy he thought he would be "a great combination" with his beloved daughter, Ivanka, who was then 23 (Brady was 27).
Brady said in a 2015 interview that he and Trump golfed together and had phone calls over the years, but their quasi-friendship went largely unnoticed until relatively recently.
Trump did make an on-field appearance at Gillette Stadium in Massachusetts before a game in 2004, where he saw Brady again in-person.
And in 2005, Trump and Brady took in a fight between Floyd Mayweather and Arturo Gatti.
Between 2004 and 2015, they had some sporadic appearances together, like at the 2005 Sports Illustrated Sportsman of the Year party in New York.
Meanwhile, Trump voiced his support for Brady (on Twitter, of course) and appears to appreciate that Brady is both his friend and "a total winner."
And then Trump started running for president in 2015, and his relationship with Brady was in the limelight again.
In September 2015, near the start of the football season, a Trump "Make America Great Again" hat was spotted in Brady's locker. In July 2015, Trump kicked off the campaign by calling Mexican immigrants "rapists" and criminals, so it was juuuuust a bit of a controversial locker decoration for the star quarterback. When asked about the hat, Brady said that Trump gave Patriots owner Robert Kraft the MAGA hat to give to Brady.
"He always gives me a call and different types of motivational speeches at different times," Brady said about their relationship at the time. He added that Trump is "a good friend and we've had a lot of time on the golf course together."
Brady went on to endorse Trump's presidential run in September 2015.
When asked if Trump could win the election, Brady said, "I hope so. That would be great. There'd be a putting green on the White House lawn. I know that."
After that glowing endorsement, however, things sort of soured.
After the Access Hollywood tape came out in October 2016, Brady walked out of a press conference when asked about it.
The awkwardness continued after the November 2016 election. Brady refused to answer questions about Trump, and the day after the election he said that his wife, Gisele Bündchen, "said I can't talk about politics anymore, so I think that's a good decision made for our family." Bündchen said that she and her husband were not supporting Trump in the election (Brady never really gave a direct answer).
After Trump took office, Brady skipped a team visit to the White House in April 2017 to spend time with his mother, he said. And in a December 2017 profile of Trump by The New York Times, reporters wrote that Trump "expresses disappointment that Tom Brady, the New England Patriots quarterback, has distanced himself."
Those halcyon days of Miss USA seem like a long, long time ago.