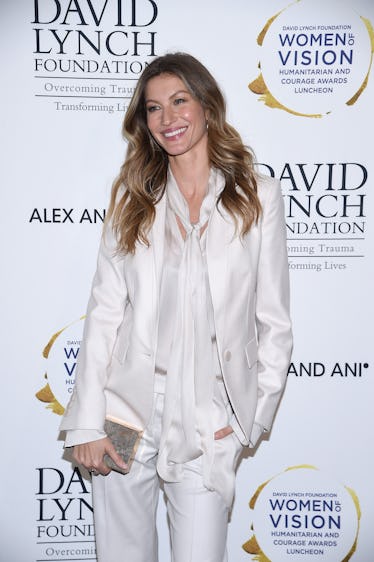 Gisele Bündchen's Net Worth Is Even Higher Than Tom Brady's & It's Amazing
Dimitrios Kambouris/Getty Images Entertainment/Getty Images
When you think of supermodels, one big name always comes to mind — Gisele Bündchen. Her husband, Tom Brady, may be the center of attention right now during Super Bowl mania, but his wife's career is nothing to scoff at. Bündchen was one of the highest-paid models in the business before her retirement, and has had years of success building an empire. What is Gisele Bündchen's net worth, exactly? The number is staggering, and actually more than her husband's. Girl power, baby.
Bündchen is a total icon, and even snagged a spot as the 99th highest paid celebrity in 2016, according to AOL. Bündchen's net worth is a whopping $360 million while Brady's sits comfortably at $180 million. Together, the couple is worth $540 million. I need to sit down.
Bündchen's modeling career began in 1993 when she was just 13 years old. Surprisingly, Bündchen was discovered at the most average place — sitting in a booth at McDonald's. According to Vanity Fair, Bündchen has always been an over-achiever. She was a straight-A student and aspiring professional volleyball player when she enrolled in a modeling course. Was she interested in becoming a model? No, but she was excited about a trip to Saõ Paulo. After a 25-hours bus ride, Bündchen was enjoying some McNuggets (I imagine) as her first meal in a big city. It was then and there that Bündchen was selected out of a group of 55 girls by a modeling agent.
By 17, she was one of the biggest models in the world, and had walked on every major runway. Bündchen was asked what it was like to be "the model of the moment." Reflecting back, Bündchen divulged, "It was hard for me to answer as myself. I barely spoke English. I thought, I have to give my best because they trust me with that." That's when the model's alter-ego was born. She told the reporter,
I invented this other person, and she could do everything. She wasn't afraid; she was able to be ballsy and risky and sexy or androgynous. She was bold. I had to believe in myself as this person that was strong, up-front, invincible, and positive, who knew what she was doing, even though I really didn't.
Bündchen's appeal just kept growing, and she started walking in the Victoria's Secret fashion show in 2000. The Brazilian model made her debut in the Red Hot Fantasy Bra, priced at $15 million. She modeled for Victoria's Secret until 2007, and it was reported that her contract sat at a hefty $25 million.
Since then, Bündchen has done an amazing job keeping the momentum of her career going at high speeds. Heavy.com reported that Bündchen makes a estimated $128,000 a day. THAT'S EVERY DAY, PEOPLE. The model's revenue comes mostly from her big name sponsors, including, "Louis Vuitton, H&M, Balenciaga, Chanel, and Carolina Herrera."
Contrary to what you might think, Bündchen never planned on becoming a model, but she did plan on becoming successful. She told Vanity Fair in 2004,
Some people start modelling because they want to be models and they want the parties and the recognition, and then there are people like me. I come from a simple family, and for me, getting into modelling was a chance to make money and create a business.
Make money she did. Basically everything Bündchen touches turns to gold. She even created a signature $700 book and all 1,000 copies sold out before its release date. The 500-page book was personally autographed by Bündchen and featured tons of photographs of the model. Specifically, the book included,
Breathtaking images from Gisele's breakthrough in the late '90s to her most recent campaigns are accompanied by personal tributes from Gisele's friends, family, and collaborators.
If that wasn't fabulous enough, Bündchen used 100 percent of her book's profits to donate to charity. OK, we get it, she's the kween.
Overall, Bündchen has worked her long legs off to become the huge success that she is. Keep slaying, Gisele.
Check out the entire Gen Why series and other videos on Facebook and the Bustle app across Apple TV, Roku, and Amazon Fire TV.