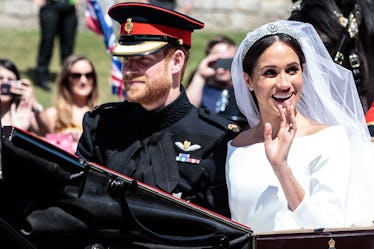 This Couple Got Engaged In Windsor During The Royal Wedding & It's Bold
Jack Taylor/Getty Images Entertainment/Getty Images
On Saturday, May 19, a very lucky couple got very happily married... and another very lucky couple got very happily engaged just outside the doors. That's right, a couple got engaged as Meghan Markle and Prince Harry were getting married, and the video of this royal wedding proposal in Windsor will have you cheering this non-royal couple on. While normally it's a bit of a faux pas to get engaged at somebody else's wedding, you've got to admit that it's a pretty decent idea to take advantage of the festivities for your own enjoyment, and that's just what this couple did.
To do so, the groom-to-be employed the help of Sangita Patel, a host on Canada's ET Canada. Patel was reporting live from Windsor along with Global television personalities Cheryl Hickey and Dawna Friesen, according to The Huffington Post. And judging by the video of the proposal, which happened live on television, Patel had a good time making this ecstatic moment happen.
"There's love in the air, and things can happen whenever, right?" Patel said to the bride-to-be. "Well, we have a little surprise for you, honey. A little surprise. Nothing major!"
Patel then turned to the groom-to-be, saying, "I'm just gonna leave it to you now!"
At that moment, the bride-to-be seemed to know what was going on, and the groom-to-be got down on his knee and pulled out a ring. You can see it all go down here:
There were lots of screams, and the bride-to-be giddily nodded her head to say yes, and the couple shared a big hug and kiss. Another pair, who seemed to be friends of the couple, were there to cheer them on and gave them both hugs after the successful proposal, with a male friend telling the groom-to-be that he did a good job with it.
"I'll be going to their wedding, I'm assuming," Patel laughed, watching the celebrations, before telling the groom-to-be congratulations. It was, all in all, a very sweet moment capture on video for us all to participate in. Modern romance!
Now, general contemporary etiquette indicates that it is somewhat gauche to propose at someone else's wedding, but this was a day all about breaking tradition and social norms.
First, there's the matter of the bride herself. Meghan Markle is an American biracial divorcée, and each of those identifiers falls far outside of the norm for British royals. In fact, up until the last half century, British royals were not allowed to marry Americans or people who had been divorced, and those restrictions caused quite a bit of drama (and one abdication) in the course of royals' lives, because love does what it wants and often doesn't follow rules.
Over the course of the wedding itself, both Markle and Prince Harry broke a handful of traditions. With her father not attending the wedding, Markle walked herself down most of the aisle, and Prince Charles accompanied her the rest of the way. Technically, she wasn't "given away," which is an awesome way of getting rid of that creepy patriarchal tradition. As she was walking down the aisle, Prince Harry watched her, which also broke tradition — in Britain, the groom typically looks at the altar, and Prince William, for instance, did not watch Kate walk down the aisle. Harry is also reportedly wearing a wedding band, which also breaks traditional royal tradition.
All told, from start to finish, Prince Harry and Markle's wedding was breaking traditions all over the place, so with that in mind, it's only fitting that some public guests did the same with their sweet proposal. Congratulations to them!