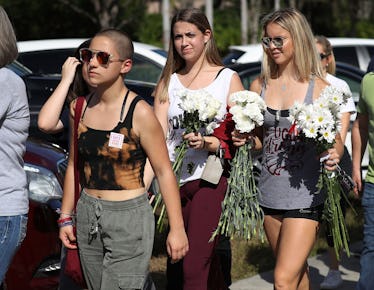 You Have To See Emma Gonzalez's March For Our Lives Speech
Joe Raedle/Getty Images News/Getty Images
On Saturday, March 24, young adults across America made history in one of the country's largest ever student-led mass protests. From star-studded performances to emotional appeals, there were too many key moments to count. But the video of Emma González's March For Our Lives speech is one worth taking a moment to pay attention to.
In her speech at the MFOL, which took place on Saturday in Washington D.C., González conveyed an incredibly powerful message, explaining just what she and her classmates had endured. She followed her memory of the shooting by noting each and every student killed, mentioning small personal anecdotes about what many of them won't be able to do ever again. Gonzales then followed this by going completely silent for exactly six minutes and 20 seconds, which was the amount of time that the shooting took place for at Stoneman Douglas High School on Feb. 14, 2018. It was a powerful speech, and it's clear Gonzales is a very eloquent young adult. Make sure to catch the speech in the video below; you won't regret watching her stand up for what she believes in.
González's status as as one of the key student activists in the #NeverAgain movement was galvanized after a moving speech she gave on Saturday, Feb. 17 went viral. Just days after the shooting, and fighting back tears, she called out politicians for failing to take firmer stances against the National Rifle Association (NRA).
Without a doubt, the Parkland shooting survivor's defiant speech to the NRA played a role in helping spark larger calls for political accountability and bringing more attention to the gun control cause. (Not to mention, the speech boosted her following in the digital sphere, generating more Twitter followers than the gun lobby in a matter of days.)
González and her peers meant business and were going to stand by their words about change. They began organizing the March For Our Lives as part of the larger #NeverAgain movement. In addition to the march, organizers are calling for people to register to vote and to sign their petition demanding specific legislative actions to prevent future gun violence in schools and beyond.
The march, like the other two major demonstrations this spring, was entirely student led. Among the prominent students leading the #NeverAgain movement alongside are her peers Cameron Kasky, Sarah Chadwick, and David Hogg.
"This is our fight now," González said in an interview with MSNBC on Feb. 18, "because you messed it up so badly that you left it to the kids. Now it's our job, and you can't try to take that back from us."
"With our unity, stories that the public never wanted to hear are being pushed to the forefront," González wrote in a Twitter thread on March 18, "and us kids will be marching and speaking in DC, to illuminate the problems and troubles America faces to the World. Together, we will make history — Together, we are strong."
As of 10 a.m. Friday, some 43,000 had indicated they'd attend the official D.C. march on Facebook, with another 93,000 considering. The march was expected to be one of the largest mass demonstrations in U.S. history, a USA Today poll found, with one third of young Americans planning to participate either in-person or digitally.
The students and their allies flooded the streets of the nation's capital on Saturday "to demand that their lives and safety become a priority," per march mission statement. Specifically, they're asking that "a comprehensive and effective bill be immediately brought before Congress to address these gun issues."
"The most marches for any event in history," tweeted Matt Deitsch, a former MSD student and March For Our Lives community outreach director, citing the headcount of over 800 registered sibling marches. "This moment will become a movement and we will see morally just leaders soon.
González shared the stage that day with not just other student survivors-turned-activists, but also some pretty powerful allies. According to Deadline, Lin Manuel-Miranda and Ben Platt were slated as performers in the official D.C. march, joined by Ariana Grande, Miley Cyrus, and others. Over at the Los Angeles sister march, Amy Schumer, Olivia Wilde, and Yara Shahidi were among the stars expected to perform.
Aside from performing, lots of other high-powered figures have backed the students' movement. In the fashion world, Gucci dropped half a million for the cause; over in Hollywood, similar $500,000 donations were each made by George and Amal Clooney, Steven Spielberg and Kate Capshaw, and Oprah Winfrey. And Lyft has offered free rides to and from the marches nationwide.
It's clear that González, and the #NeverAgain movement at large, has the support and potential to create serious change for the country. And based on her epic speech today, neither she nor the movement look like they'll be stopping anytime soon.