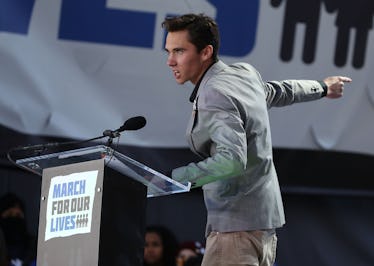 You Need To Watch This Parkland Student's Speech At March For Our Lives
Mark Wilson/Getty Images News/Getty Images
A day after a gunman killed 14 students and three other staff members at his high school, 17-year-old David Hogg delivering a message to Congress on national TV. "We're children," the student said on CNN, "Come over your politics and get something done." On Saturday, David Hogg's speech at the March For Our Lives gave the Marjory Stoneman Douglas senior a national audience once again and he used it to reiterate a similar message about the power of young people.
Hogg didn't waste time in getting to the fact that this year is a huge deal in terms of elections, and he would plan to hold politicians' feet to the fire for their stances on gun control.
At one point during the speech, Hogg said,
We're going to make this the voting issue. We're going to take this to every election, to every state, and every city. We're going to make sure the best people get in our elections to run, not as politicians, but as Americans, because this — this is not cutting it.
"The winter is over. Change is here, the sun shines on a new day, and the day is ours," Hogg said. He added: "First-time voters show up 18 percent of the time in mid-term elections. Not anymore."
Footage of Hogg's speech at the March For Our Lives can be seen in the video below.
Hogg's speech at the March For Our Lives continued a month-plus of activism that the Stoneman Douglas senior has engaged in since the Feb. 14 shooting at the high school he attends in Parkland, Florida.
A day after the shooting, Hogg not only delivered the aforementioned interview on CNN, during which he called on Congress to act like adults, but also several others, beginning a string of television appearance that has continued since.
"People get used to what's going on and that's not OK," Hogg told MSNBC's Stephanie Ruhle on Feb. 15. "We're habituating to this and what happens when we do that is children are dying and they will continue to die unless we stop it. Stand up and take action."
Hogg's sustained presence in the media is part of a larger trend that has made the aftermath of the Parkland shooting unique: The students — not parents, seasoned activists, or lawmakers — have become the most vocal and most central to the response to the shooting.
In the 39 days between the Parkland shooting and the March For Our Lives in Washington D.C., Hogg has reiterated several key themes, including a push gun control legislation and an argument that the National Rifle Association (NRA) has undue influence in politics.
On Feb. 18, four days after the Parkland shooting, Hogg was among five Stoneman Douglas students who announced the date for the March For Our Lives during an interview with ABC. Included in the group was junior Cameron Kasky, who said, "People are saying that it's not time to talk about gun control. And we can respect that. Here's a time. March 24th in every single city. We are going to be marching together as students begging for our lives."
Organizing the March For Our Lives was a joint effort between two predominant groups. First, there was Kasky, Hogg, and the other Stoneman Douglas students who form the Never Again movement, like Emma Gonzalez.
Then there's Everytown For Gun Safety, a pro-gun control organization that is led by former New York City mayor Michael Bloomberg. On March 2, Everytown announced a $2.5 million grant dedicated to the March For Our Lives' affiliate protests that were established outside the movement's main event in the nation's capital.
"Students are making history and demanding that our elected officials protect them," Everytown president John Feinblatt said. "Everytown is proud to help them make their voices heard on March 24, and we look forward to more Americans following their lead to forge meaningful change to our country's gun laws."
On Saturday, during his speech at the March For Our Lives, David Hogg was once again one of those students pushing for that change in gun laws.