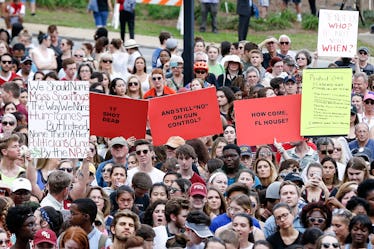 March For Our Lives Is Being Held In A City That'll Make An Impact
Don Juan Moore/Getty Images News/Getty Images
Since the day a gunman opened fire on a high school in Parkland, Florida, a national debate on gun laws has re-emerged, and the survivors of the shooting have been at the center of the discussion. A group of those same survivors are set to continue that trend, with plans for a massive demonstration that is reportedly expecting hundreds of thousands of attendants. So, where is the March For Our Lives?
The march's website says it will be held on Saturday, Mar. 24, in Washington D.C. An exact site for the protest is not yet known, according to The Washington Post, which also reports that organizers are expecting up to 500,000 people at the rally.
"We've had our first meeting with the organizers and for scheduling and logistics reasons they are now focusing on alternate locations for the event, including Pennsylvania Avenue and West Potomac Park," Mike Litterst, a spokesman for the National Park Service, told The Post in an email. Litterst added, "It's the start of a fairly long and complicated process."
On Sunday, Feb. 18, during an appearance on ABC political show This Week, five students from Marjory Stoneman Douglas High School — the site of the shooting — announced the creation of the rally. "People are saying that it's not time to talk about gun control. And we can respect that," Cameron Kasky, a junior at the high school, told ABC. "Here's a time. March 24th in every single city. We are going to be marching together as students begging for our lives."
Kasky's words indicate the March For Our Lives will have a format similar to the Women's March, which featured a main demonstration in one city, but affiliated demonstrations taking place across the country.
As of Tuesday, Feb. 27, the March For Our Lives' verified Facebook page shows over 70 sister marches will take place outside of Washington D.C., including in cities like Miami, London, and Toronto.
Kasky is among a number of students from Marjory Stoneman Douglas High who have been at the forefront of an effort from Parkland community members to mobilize efforts calling for gun reform.
During a town hall organized by CNN, and featuring a number of members from Congress, Kasky was among the students who probed GOP Senator Marco Rubio (FL) about support from the NRA.
Kasky asked told senator,
This isn't about red and blue. We can't boo people because they're democrats and boo people because they're republicans. Anyone who's willing to show change, no matter where they're from, anybody who's willing to start to make a difference is someone we need on our side here. And this is about people who are for making a difference to save us and people who are against it and prefer making money. So, Senator Rubio. Can you tell me right now that you will not accept a single donation from the NRA?
Rubio would go on to reply that accepting campaign contributions is a matter of donors buying into his ideas, and not the other way around.
While the town hall mostly focused on what lawmakers would do in reaction to the Parkland shooting, the March for Our Lives is all about what a group of students will take it upon themselves to do.
"We cannot allow one more child to be shot at school. We cannot allow one more teacher to make a choice to jump in front of a firing assault rifle to save the lives of students," the website for the rally states. "We cannot allow one more family to wait for a call or text that never comes. Our schools are unsafe. Our children and teachers are dying. We must make it our top priority to save these lives."
With the march, the students are indeed showing how much of a priority the cause is for them.