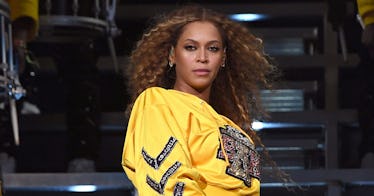 The Video Of Beyonce Climbing Down An Emergency Ladder After A Set Malfunction Is Scary AF
Larry Busacca/Getty Images Entertainment/Getty Images
Every so often the universe might try to trick you into believing Beyoncé is actually a mortal human being and not a demigod, but don't be fooled, reader! At her and hubby JAY-Z's On The Run II tour stop in Poland on Saturday, June 30, Queen B experienced a little technical malfunction with her flying stage and had to make an emergency exit. Fans caught it all, of course, and the video of Beyonce climbing down an emergency ladder is honestly a little bit scary in a "DON'T BREAK HER. SHE IS A GLOBAL TREASURE!" kind of way.
According to Entertainment Tonight, Bey was wrapping up the Warsaw show when her flying stage suddenly stopped working leaving her stuck uncomfortably high above ground level. According to an eyewitness, it was during the song "Young Forever." Based on the video, staff and stage crew quickly jumped to her side and provided her with a ladder to step down from her perch up on the stage, but Bey's boots or something made her hesitate. It's hard to tell how high up she really is in the footage, but it's clear it's high enough for her and the stage crew to take their time crafting her emergency dismount rather than rushing the process. Ever the professional, Beyoncé gave her fans a little dance move while the crew re-jiggered the ladder.
The Twitter user who shared the video tweeted:
Poland has a long history of people doing things in an unconventional manner in order to succeed. Tonight @Beyonce joins them by taking an emergency ladder to leave the stage ❤️ #beyhive #otr2 #OTRIIWarsaw #OTRII.
Ugh. She's the best.
Of course, watching this video calls to mind all the other times Beyoncé faced some sort of performance malfunction and shook it off like nothing ever happened. My obvious favorite is that time her hair got stuck in a fan and multiple people literally had to cut it out while she sang her hit song, "Halo."
If you don't know what I'm talking about... please, indulge.
Do you die? That man is straight up taking sheers to her Queen B locks and she's just like, "Excuse me, busy, have a show to do."
Or, now that I'm on a roll, remember that time a shirtless man grabbed Bey and almost dragged her off the stage. He was ultimately grabbed by security, but, because Beyoncé is a generous and forgiving queen, she let him stay and continue watching the concert? DO YOU GUYS REMEMBER THAT? The incident is covered in this video clip, which also includes other outrageous moments like when one sincere idiot smacked her bum and another man fainted after hugging her.
Is there anything that can rattle this woman?
Considering On The Run II is a tour with her husband, we suspect she feels even more supported and secure on stage than ever. (Not because she needs a man, obviously, but because it's fun to do things with your best friend and partner! Ya know, like take over the music world!)
Fans are eating up OTRII for all the obvious reasons, but especially after the series of tumultuous years Beyoncé and JAY-Z documented on their respective albums, Lemonade and 4:44. Watching the two perform together has been nearly too much for those lucky enough to score tour tickets this summer.
Of course, if Beyoncé can make lemonade out of her husband cheating on her, she can certainly handle a little stage malfunction here and there. Long live the Queen.
Check out the entire Gen Why series and other videos on Facebook and the Bustle app across Apple TV, Roku, and Amazon Fire TV.