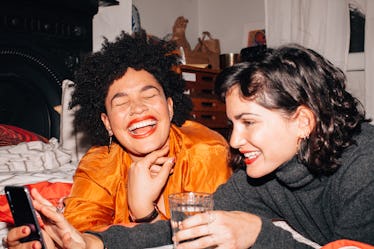 The Thanksgiving Food To Make With Your SO, Based On Your Sign
It's not always easy to know what you and your boo should bring to Thanksgiving dinner. Do you steal the show with a pan-roasted citrus glazed turkey? Slide-in with a store-bought can of cranberry sauce? Spend three months perfecting a sourdough bread starter for your handmade dinner rolls? With seemingly endless options, if you're stressed about finding the perfect Thanksgiving food to make with your partner, knowing how your zodiac sign factors in can be a second helping of helpful.
While Thanksgiving is a time to relax and reflect, preparing enough food for the big day can be stressful. If you and your boo have different cooking styles, dietary restrictions, or conflicting schedules, finding the time to mull cider or peel carrots may feel impossible. Of course, Thanksgiving can be whatever you make of it. And whether you skip the four-course meal for a slice of pizza or recreate every Bon Appétit Thanksgiving recipe so well that Brad Leone and Claire Saffitz would cry, the best part of Thanksgiving is being with the people you love.
Of course, if you're looking to get your hands dirty, here is the best Thanksgiving food to make with your boo, astrologically speaking.