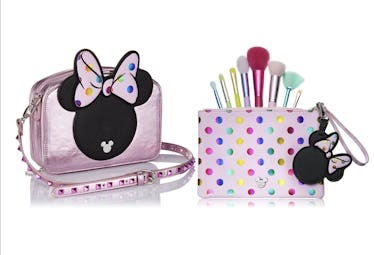 Spectrum Collection's Minnie Mouse Line Will Make Your Brush Stash So Magical
Your makeup routine is about to make you feel so nostalgic for childhood trips to Magic Kingdom, thanks to the Spectrum x Minnie Mouse collection. The same British beauty brand that brought us The Little Mermaid makeup brush collection and the Mean Girls-themed makeup brush collection has now launched a kit inspired by Minnie Mouse, the undisputed First Lady of Walt Disney World.
Spectrum first announced on their Instagram page on Sunday, July 29, that the makeup brushes and various makeup pouches and holders would make their appearance at the brand's new Carnaby street store in London on Aug. 8, and via their website on Aug. 9. However, unfortunately for mouseketeer fans that live in the U.S. and Asia, the sets are only going to be available for purchase to customers that live in Europe and Australia (for the time being). Still, if you fall in that area, that means this adorable new line is yours for the taking!
If you spent your childhood longing for the day that you could join celebrities like Justin Timberlake, Britney Spears, and Christina Aguilera on The Mickey Mouse Club, Spectrum's new Minnie Mouse collection will have you feeling like you're right there with your faves. The line includes a range of eight multi-colored makeup brushes, a handheld mirror in the shape of Minnie's head, a zipper-top pouch, a Minnie-shaped vanity case, a pink metallic Minnie satchel purse, and a pink metallic Minnie brush holster that you can wear around your waist.
The versatility of the Minnie Mouse collection makes each piece perfect for everyone, whether you're new to the makeup game, just a big Minnie Mouse fan, or if you're a veteran makeup artist.
The eight-piece brush set features a large powder brush, a foundation brush, a blush brush, a fan brush, a shader brush, an eyeshadow blending brush, a smudge brush, and an eyeliner brush — all in a different color of the rainbow. The range of cases includes everything from a polka dot pouch that perfectly fits each brush on the go, a Minnie-shaped vanity bag to store your brushes and your makeup, and a metallic pink purse with studded strap to make your night-out look magical (while still keeping your brushes safe. But finally, for the makeup artist in all of us, Spectrum included a Minnie-inspired brush belt to conveniently hold all of your makeup brushes and tools while beating your own face, or someone else's.
If Minnie isn't your favorite Disney character or theme in general, there's no need to worry. In addition to the Minnie Mouse, Mean Girls, and The Little Mermaid collections, Spectrum has a wide range of brush sets that includes zodiac-inspired collections, a bridal set, and mermaid-inspired accessories, as well. In addition to Spectrum, recently, we've seen quite a few other brands borrow a little inspiration from Disney films, too. Target released a collection of bath and beauty products (all under $5), the shoe brand TOMS launched a collection inspired by Sleeping Beauty, and Coach just dropped "A Dark Fairy Tale" collection, inspired by the darker side of Disney animations for goth princesses everywhere.