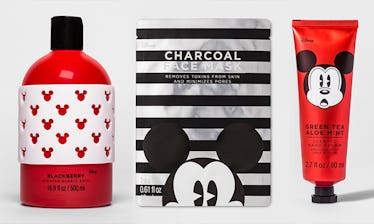 Target Dropped Disney Bath & Beauty Products & Everything Is $5 Or Less
Target
They say to never judge a book by its cover, but I'm such a sucker for really cute beauty packaging. When shopping for my next beauty obsession, I can't help but gravitate towards anything pink, anything shaped like a cute character (like that Tony Moly panda-shaped eye cream stick), or anything miniature. But thanks to a brand new line of Target x Disney beauty products, my next trip to Tarjay will be almost too much to handle. The collection includes everything from bubble bath to sheet masks, all packaged with faces of who else?
M-I-C-K-E-Y M-O-U-S-E.
Unlike anything else splattered with Disney-branded motifs, this collection of vanity staples is surprisingly affordable and super easy to get your hands on. In fact, it's all available for under $5. At prices that low, you'll be able to buy literally everything — and you might have to, because I can just see it all selling out really soon.
$3 Sheet Masks
Just like most sheet masks, these are insanely affordable. However, unlike every other one on the market, these ones are covered in Mickey Mouse's cute face. Available in green tea, charcoal, and hyaluronic acid, you can have perfect-looking skin with loads of feel-good nostalgia.
If your skin is in need of some serious R&R, consider loading up on this Mickey Mouse Face Mask in Green Tea ($3, Target), which is packed with anti-inflammatory properties to hydrate and soothe problem skin.
Perfect for those who need a skin reset, the Mickey Mouse Face Mask in Charcoal ($3, Target) removes oils, draws out impurities, and minimizes the appearance of pores. If you wear makeup every day like I do, this is perfect for your weekly skin detox.
If your skin is perpetually parched like mine, this Mickey Mouse Face Mask in Hyaluronic Acid ($3, Target) is your saving grace. Hyaluronic acid (though scary sounding) is super hydrating and leaves skin feeling nourished and refreshed, while plumping up its appearance.
$3 Hand Creams
Keep your hands moisturized on the go — and brighten the inside of your purse (and your day) — with these three cheerfully packed scents. Plus, they're TSA-friendly, which is perfect to take on a plane in case you're planning to visit Disneyland in Orlando (unless you live in Florida, in which case you'd be planning a trip to Anaheim, CA.).
Infused with shea butter and a blackberry scent, this Mickey Mouse Hand Cream in Blackberry ($3, Target) keeps you hydrated from wrists to fingertips.
If you prefer something a bit more earthy smelling, reach for a blend of green tea and aloe mint. Plus, the open-mouthed Mickey Mouse face on this Mickey Mouse Hand Cream in Green Tea Aloe Mint ($3, Target) is adorable.
Even if your style is more on the minimal side, this black-and-white Mickey Mouse Hand Creme in Citrus Mint ($3, Target) is actually super chic.
$3 Hand Sanitizer
Because you can never be too cautious, carrying around a mini hand sanitizer is just good sense. But one this cute Mickey Mouse Hand Sanitizer Assorted ($3, Target) will make you want to carry it with you at all times.
$4 Bubble Bath
Bubble baths aren't just for 5 year olds, but these two bottles will certainly make you feel like a kid again. And as an added bonus, the Mickey-Mouse-embossed silicone band around the bottle is for more than just looks — it's actually a non-slip grip.
There's nothing juvenile about the scent of this Mickey Mouse Bubble Bath in Berry Blossom ($4, Target).
This black and red packaging isn't your little sister's bath-time favorite. Not only does it look super chic, this Mickey Mouse Bubble Bath in Citrus Mint ($4, Target) fits right in with your big-girl products.