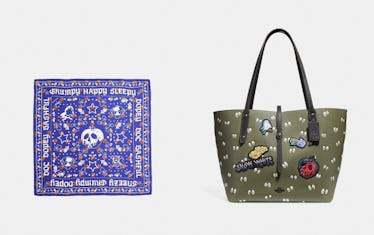 Coach's 'A Dark Fairy Tale' Disney Merch Is So Wicked Good, You'll Have To Bite This Apple
Courtesy of Coach
Coach is a timeless fashion brand known for its classic designs — and its Disney collaborations. The unlikely duo have a successful history together, though, and the newest Disney x Coach collection is my favorite one yet. Forget about fluffy, pink princess gowns and think more along the lines of Maleficent and Snow White's evil queen.
The third partnership between the two big-name brands is dubbed "A Dark Fairy Tale" and takes inspiration from the eerier sides of Disney's stories. The previous collections were themed around Mickey and Minnie Mouse — The Minnie Mouse Coach products featured healthy doses of all things pink, polka-dotted, and glittery, making Minnie proud. Such has been the case for many other brand's Disney-themed goods, but Coach has taken a turn to the dark side this time around.
Disney's style blog describes the excitement around the collection: "We're particularly loving the rock 'n' roll fonts used throughout the collection, like handbags that even make Happy, Sneezy, and Bashful look metal." Disney also teases enticing apparel options: "Poison apples and woodland creatures are appliquéd atop Coach's signature logo print, and paired with moto jackets that make for a dark retro style." Forget about what Cinderella would wear and channel your inner villain, because she's going to want alllll of this goodness.
Duffle 20 With Spooky Eyes Print
($395; coach.com)
One of Coach's staple bags gets the limited-edition makeover with an embossed spooky eye print, complete with a poisoned apple charm.
Sneezy Strap
($150; coach.com)
Personalize your new bag with a Snow White and the Seven Dwarfs-themed strap, all you have to do is decide if you're feeling Sneezy, Grump, Happy, Sleepy, Dopey, Bashful, or Doc. I never understood that one.
Sleepy Sticker
($20; coach.com)
I'm always tired so this leather sticker really speaks to me.
Me AF.
Snow White Bandana in Purple
($95; coach.com)
This silk scarf lists the names of all of Snow White's friends in case you need a quick reference. Wear it around your neck or tie it to your bag to add a pop of color.
Poison Apple T-Shirt Dress
($350; coach.com)
If you don't have a T-shirt dress in your repertoire, you need one. And even if you do, you still need this one. There's nothing easier to wear in the summer than a loose-fitting T-shirt dress, it keeps you looking and feeling cool.
Don't eat it!
Market Tote With Spooky Eyes Print
($395; coach.com)
If you don't want to go all-out black for a Disney-themed purchase, I'm also a big fan of this olive green carry-all tote.
Gem Charm Necklace
($155; coach.com)
The glass charms on this pendant necklace are inspired by the mining work the seven dwarves do. Hi ho, hi ho, it's off to buy this necklace I go.
Duffle 12 in Signature Patchwork
($395; coach.com)
Even Coach's signature logo print gets the Disney treatment. This critter-covered accessory has a detachable strap so you can carry it on your shoulder or use it as a crossbody bag.
Forest Floral Print Zip Hoodie
($395; coach.com)
Dark florals for spring are kind of groundbreaking and I'm into it. This water-resistant hoodie is going right on my wishlist.
C101 With Poison Apple Graphic
($225; coach.com)
The poison apple charm on the heel the shoe is everything. These sneakers are technically from the men's section so for any ladies interested in a pair, go down two sizes for the right fit.
Happy Foldover Crossbody Clutch
($275; coach.com)
If a happy, fairytale ending is what you're after, there are a few things to get you there. The Happy-themed merch is light and bright, adorned with yellow flowers and chirping birds.
Peace, b*tches, I'm going shopping.