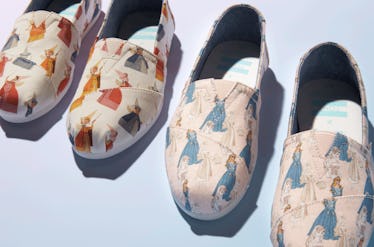 The Disney x TOMS Sleeping Beauty Collection Will Make You Nostalgic (& Happy) AF
TOMS
If you're among those who wears mouse ears on the regular and considers a trip to the Magic Kingdom to be the greatest vacation one could take on earth, then you're going to obsess over a just-dropped footwear offering. The Disney x TOMS Sleeping Beauty collection is anything but a snooze and boasts styles for kids and adults (who are kids at heart), alike. Get ready to add a bit of magic to your step.
This collection is the second out of three Disney x TOMS collaborations. A Cinderella-inspired collection was released last in June and a Snow White-inspired collection is set to drop next month. While the Cinderella offerings are undeniably fantastical in their own right—one style boasts Cinderella's little mouse friends; another features the princess herself along with her iconic glass slipper—the Sleeping Beauty is, in my opinion, a step above. And, along with Ariel and Pocahontas, Cinderella was one of my favorite princesses as a kid, so that says a lot.
As reveled in a press release from TOMS, the entire Disney collaboration "features exclusive, never before seen artwork created by the all-female Ink and Paint department of Disney in the mid-1900s. They worked tirelessly behind the scenes hand-drawing and inking the individual images that were transformed into the classic Disney movies near and dear to every child's (or adult child's) heart." How incredible is that?! Not only do the shoes feature never before seen renderings used to create some of the most iconic movies on earth, but the renderings were done by an all-female team! In the mid-1900s! That honestly blows me away.
"TOMS and Disney come together to celebrate those memories and the women who helped create them with their collection," continues the press release. "The collection encourages and empowers women and girls to pursue their dreams." While I certainly don't know the details surrounding the all-women Ink and Paint department, it's amazing nonetheless to know that it was exclusively female-staffed—girl power, indeed.
The first pair of women's shoes within the collection boasts the classic TOMS silhouette and features Princess Aurora in both pink and blue form printed on its upper. "These printed Classics are for the princess who dreams big," says the TOMS website.
Next up is another style that features TOMS' classic silhouette, but this time it's printed with Aurora's three fairy godmothers. One wears red, another blue, and the other yellow, meaning this offering is as colorful as it is magical. "For those who break glass ceilings in glass slippers," TOMS describes them. I happened to play a fairy godmother—maybe the pink one?—in a dance recital back in high school, so this pair of shoes holds a special place in my heart.
And finally, there's a pair of white lace-up sneakers. They're dotted with little pink sparks that are almost too faint to notice, while Aurora's fairy godmothers flutter around the sides of the each shoe.
As with all of TOMS' offerings, the buy-one, give-one model still applies to this collection. For every piece of Disney x TOMS collection purchased, TOMS will help a person in need. And seeing as the women's collection ranges from $64.95 - $75, it's a means of giving back that's totally affordable. The fact that you, too, get something out of the deal only sweetens it—why not empower another woman through a collection designed to do just that?
If you're a diehard fan, snagging one piece from each Disney princess x TOMS collaboration could be an awesome way to build out your footwear collection. Lookout for the Snow White-inspired offerings next month and order a Cinderella-inspired piece along with your Aurora kicks stat.