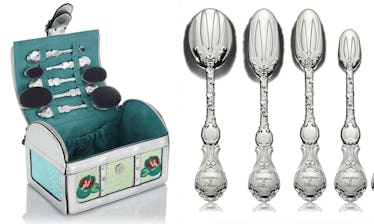 The Spectrum x Disney 'The Little Mermaid' Collection Will Have You Swimming With Nostalgia
Spectrum Collections
I remember watching The Little Mermaid as a little girl and intently taking mental notes on her beauty routine. I've yet to meet a girl with such an effortless regime. I mean, she brushed her hair with a fork, yet she had the prettiest hair of all. Embarrassingly enough, her philosophy had such an effect on me, I actually tried brushing my hair with a fork. What can I say? I was an impressionable young child. The good news is, I don't have to rummage through my kitchen drawers for nostalgic beauty hacks anymore, because these Little Mermaid makeup brushes are making my big-girl heart sing the high notes.
These days, I have a beauty routine of my own — a more grown-up routine that doesn't involve silverware. Though, no matter how old I get, I can't help but still be inspired by my childhood icons. Maybe that's why I've worn my hair long, almost always with a side part, and tons of volume up top for decades now. OMG, I think I'm having an epiphany.
In case you're equally as inspired by feelings of mermaid nostalgia like I am, there's a new way to channel your inner Ariel — one that doesn't require a life-long commitment to a single hairstyle.
In case you've been living under a sunken ship, Spectrum Collections is the brand behind makeup brush collections that are not only beautiful, but evocative AF. (Have you seen their Mean Girls collection?). Well, they're at it again with a new collection of makeup brushes and themed cases, one liable to strike a chord: perhaps in the "Under The Sea" tune. Behold, the Spectrum x Disney The Little Mermaid collection, complete with holographic finishes, shell-shaped cases, silverware-inspired brushes, and an actual treasure chest.
Dinglehoppers At The Ready
Dinglehopper Five-Piece Brush Set, £64.99, Spectrum
If you're as obsessed with the silverware-inspired brushes as I am, you can buy the brushes separately. But, once you see this next piece from the collection, you may want to make some space on your vanity...
A Chest For Your Treasures
Ariel Chest Dinglehopper Set, £99.99, Spectrum
Making all my 5-year-old dreams come true (granted, it came 23 years late, but I'll take it!), this treasure chest-shaped makeup bag not only holds all the baubles of your existing vanity, but it comes complete with its own set of brushes inspired by sunken forks.
If Dinglehoppers Aren't Really Your Style...
Ariel Shell Brush Set, £79.99, Spectrum
Pretty enough to carry as a purse, this shell-shaped metallic bag (encrusted with pearls nonetheless) carries a gorgeous set of makeup brushes — even the bristles are rivaled only by Ariel's beautiful red hair.
Trust Your Treasures With Ariel
Ariel Makeup Bag, £24.99, Spectrum
How could you not want this cute little face to be in charge of holding your makeup staples?
Chillin' With The Villain
Ursula Shell Makeup Brush Set, £79.99, Spectrum
If you're the type of gal who roots for the villain, this Ursula makeup bag and brush set is right up your alley. Constructed of textured and metallic faux leather and sparkles, this pretty shell bag houses a set of matching brushes with lavender bristles. I consider myself part of team Ariel, but this bag has me singing a different tune.
No Poor, Unfortunate Souls With This Makeup Bag
Ursula Makeup Bag, £24.99, Spectrum
I'm starting to realize Ursula isn't all that bad after all. Plus, she'll ward off makeup thieves for you. Score!
As if the cute illustrations, metallic finishes, and pearl details weren't enough to get you on board, the entire collection is vegan and cruelty free, and one percent of the revenue will go to Plastic Bank, a charity that pays local communities to clean plastic up from the oceans. Sold? The collection launches on Thursday, May 31, 2018.