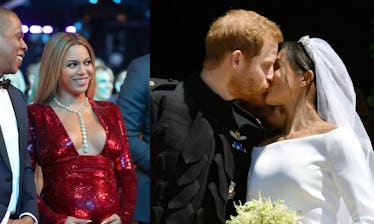 The Royal Wedding Had Some Major Differences From Beyoncé & JAY-Z's Nuptials 10 Years Ago
CHRISTOPHER POLK/WPA POOL/GETTY IMAGES ENTERTAINMENT/GETTY IMAGES
As soon as Meghan Markle and Prince Harry rode off in a fairytale carriage today, I was hit with some serious royal wedding withdrawals. Because the Queen certainly wouldn't approve if I let the leftover watch party champagne go to waste, I thought, what better way to toast the newlyweds than with a trip down memory lane celebrating the big day of pop culture's (other) ultimate power couple? Beyoncé — or Queen Bey, as she's known to her loyal Beyhive — memorably wed husband JAY-Z on April 4, 2008. While comparing Beyoncé and JAY-Z's wedding versus the royal wedding, it's clear that the pair had pretty different approaches when it came to their walk down the aisle.
It's no secret that Beyoncé and JAY-Z's 2008 nuptials flew under the radar, especially considering the lack of photos from the event. (I mean, have you ever seen any?) The guest list for the intimate wedding was limited to a star-studded crowd of about 40 individuals, according to People. It included fellow A-listers Gwyneth Paltrow and Chris Martin, as well as former Destiny's Child members Kelly Rowland and Michelle Williams. In addition, attendees were also reportedly not allowed to bring their BlackBerrys (has it really been that long since having a BlackBerry was a thing?) or any recording devices to the "very emotional" ceremony.
In contrast, a statement from Kensington Palace revealed that 2,640 people were invited to Meghan Markle and Prince Harry's wedding, half of whom are members of the public. However, no surprises here, there were a fair share of celebrity cameos during the ceremony, including Oprah, George and Amal Clooney, David and Victoria Beckham, and Serena Williams and Alexis Ohanian.
It was just days before the wedding that Meghan Markle finally revealed that her wedding party would be a pretty adorable bunch. While the Suits actress opted not to have a maid of honor (she reportedly didn't want any of her friends to feel left out), she had a group of seven bridesmaids all under the age of seven to help her out on her big day. Prince Harry couldn't exactly forego having a best man, considering he played that role when big brother Prince William wed Kate Middleton in 2011.
Mr. and Mrs. Carter also opted to go the non-traditional route when picking their wedding party. Both musicians decided not to have a best man or a maid of honor for their ceremony, according to Essence.
Beyoncé was famously not a fan of her wedding dress, which was made by her mother, Tina Knowles Lawson. In an interview with Today in April 2016, Lawson told the publication, "[Beyoncé] was so sweet to let me do that. She came back later one day and she said, 'You know, when my daughter gets married, I'm going to let her pick out her own dress.' Maybe she wasn't so excited about it at the time, but she's a sweetheart." The gown in question was a strapless ivory number, which Bey shared a glimpse of in her video for Lemonade's "All Night" as well as the 2011 music video for "I Was Here."
Lawson also shared a throwback Instagram photo of her daughter in the dress for the couple's ninth anniversary in April 2017. She captioned the black-and-white shot, "9 years already??? Congratulations to the Carters on their Anniversary (that's my arm fixing the dress lol) That's my minister Rudy Rasmus who married Solange, Beyonce and me."
While Prince Harry memorable presented Meghan Markle with a diamond stunner crafted by him and the Court Jewelers, Cleave and Company, and gave her a wedding band during the ceremony, Beyoncé reportedly admitted to Essence Magazine that she actually didn't find the engagement ring that important.
"People put too much emphasis on that. It's just material and it's just silly to me," said Knowles, according to People. "What Jay and I have is real. We've been together a long time. We always knew it would happen."
After the wedding, however, Beyoncé started wearing a rectangle-cut 18-carat diamond from Lorraine Schwartz that's valued at more than $5 million, according to Brides. Meanwhile, Markle's ring carries a special meaning as the main diamond is reportedly arranged with two others from late Princess Diana's personal collection, all laid on a band made of gold.
Beyoncé apparently spared no expense when it came to making her wedding a floral paradise with 70,000 white dendrobium orchids, reportedly her favorite flower, which Essence reports were specially flown in from Thailand. While little else is known about what the ceremony looked like (remember, no BlackBerrys), something tells me that it would have been a lavish affair with some pretty amazing views. After the pair got their marriage license, they reportedly headed over to JAY-Z's 13,500-square foot Tribeca penthouse for the ceremony, according to People.
Meanwhile, Prince Harry and Meghan Markle put their own touches on their Windsor Castle venue, and it remained classic and sweet.
All of this leads me to wonder, would Beyoncé and JAY-Z do their wedding day the same way if they were to tie the knot today? Something tells me that Queen Bey would be choosing her own wedding dress this time around, and it would be flawless.