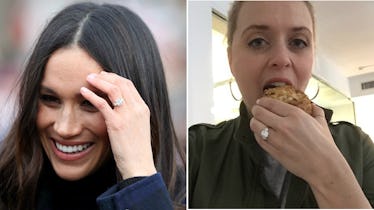 I Tried On Meghan Markle's Engagement Ring & Felt Like An Actual Princess
Chris Jackson/Getty Images Entertainment/Getty Images & Courtesy of Jamie LeeLo
You've been there before: You're scrolling through your Instagram feed when you see your favorite celeb post about their favorite new product — a face serum, vitamins that will make your skin brighter, or a specialty food service. You can't help but want to be like the stars, but are the products worth it? In Elite Daily's new series, I Tried, we put it all to the test. We're trying those products as well as celebrities' health and wellness tips, recipes, and life hacks. We'll do the leg work and tell you what living like your fave star is really like.
Every so often in life, we're met with a real opportunity — a chance to take a big job, a shot at a first kiss, an opportunity to try on Meghan Markle's engagement ring. You guys know the deal. When life gives you one of these moments, it's important you not only jump on it with vigor, but that you also document it heavily to share on the internet later. That's what I did when I was offered a chance to try on celebrity ring replicas and see what it felt like. When I tried on Meghan Markle's engagement ring replica, I felt like actual royalty. Sure, it wasn't, like, the exact one Harry gave her, but it was a twin sister, and that's close enough for me.
Engage Studio specializes in online customized engagement rings, helping happy couples design a piece of jewelry that's unique and special to them. No, they didn't actually make Markle's real ring (hers was designed by Prince Harry and Cleave and Company, Court Jewelers and Medallists to Her Majesty The Queen, ahem) but they do make you feel like royalty, anyway.
As part of the process, customers receive a high-end replica of their hand-tailored ring made out of silver and cubic zirconia to approve before buying the real thing. Engage Studio made a stop in New York City and let me come in to swoon over some of their best celebrity dupes and try on ~*diamonds*~, baby.
Their process goes like this: A couple begins with a virtual experience which includes a "deep dive" into their personal preferences, a "diamond workshop," and a preliminary design proposal. Next, the couple will receive digital renderings of the ring they created to give it the ol' once-over. Lastly, they'll receive the fancy-shmancy replica IRL to make sure everything is to their liking before pulling the trigger on the actual stones and metals they chose.
To give you an example of how legit their replicas are, here is a picture of Engage Studio's recreation of Kate Middleton's famous ring. One is the sample replica made out of silver and cubic zirconia, the other is the final product made of diamonds and sapphire. Can you tell the difference?
The real sapphire ring is on the right, but damn was it hard to tell.
Middleton's stunner knockoff was there amongst Beyonce's ginormous stone, Amal Clooney's sparkling dream ring, and Jackie Kennedy's unique, chunky bauble. I took all of them for a spin, obviously, but none of them caught my eye as much as Markle's. And I'm not just saying that for the internet.
Here are a few of my other favorites. (Please ignore my absolute embarrassment of a manicure...)
Beyonce's $5 Million 18-Carat Cut Triumph
Jackie Kennedy's Emerald-Diamond Combo Stunner
BOTH Of Carrie Bradshaw's Sparklers From Sex And The City
Plus, The Current Queen Of England's Bauble
But honestly, truly, from the bottom of my heart, Markle's engagement ring was my favorite. It's big, and fancy, and expensive, but somehow I could take it slightly more seriously than the literal chunk of earth Beyoncé apparently walks around with.
This is Engage Studio's recreation of what Markle sees when she looks down at her left hand.
And this is probably what she looks like eating a scone.
Hey! I said DON'T LOOK AT MY NAILS.
The truth is, the actual ring on Markle's finger is just a smidgen more special for a few reasons. While Engage Studio got pretty freaking close, Markle's ring has actual jewels from Princess Diana's jewelry collection flanking the center stone. Plus, the solitaire in the middle of Markle's ring came from Botswana, a place near and dear to her and Prince Harry's hearts.
In their first interview as a newly-engaged couple, Prince Harry talked about the ring's significance with BBC. He explained, "The little diamonds on either side are from my mother's jewelry collection to make sure that she's with us on this crazy journey together."
Markle added,
I think everything about Harry's thoughtfulness and the inclusion of [Princess Diana's stones] and obviously not being able to meet his mom, it's so important to me to know that she's a part of this with us. It's incredibly special to be able to have this [ring], which sort of links where [Harry comes] from and Botswana, which is important to us. It's perfect.
According toVanity Fair's jewelry editor Annabel Davidson, it probably cost Prince Harry the equivalent of $66,000. Davidson explained,
From the very small picture I could see, it looks like a very rounded cushion cut (square cut with rounded corners) stone of at least two carats, flanked by two brilliant cut shoulder stones... From the Rappaport diamond pricing index, a ring like this would cost at least £50,000 to buy new including the side stones — although there's no way to know what color grade the central diamond is, which would hugely affect the price.
I tried it on, I felt like a princess, and I want everyone to start referring to me as the Duchess of Dunkin' Donuts from now on, please.
To design your own ring fit for royalty, pop over to Engage Studio and/or fall in love with an actual prince. It's all about options, people.