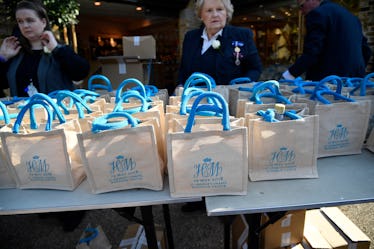 The Guests At The Royal Wedding Got A Special Gift Bag & It Actually Sounds Hilarious
WPA Pool/Getty Images Entertainment/Getty Images
If you were one of the lucky few that was invited to attend the royal wedding of Meghan Markle and Prince Harry on May 19, chances are that you received a gift bag following the ceremony. You might be wondering what was included in the wedding souvenir, and I am happy to report that it's pretty much the same as any other wedding that you've been to — so no need to feel too left out. But there's one thing that you can't find at just any weddig; it seems the royal wedding gift bag includes a coupon for the Windsor Castle shop and it's kind of hilarious.
According to Business Insider, there were about 2,000 members of the public that were invited to attend the wedding of Markle and Prince Harry. But if you are one of the many that did not get the coveted invite, you can still get a sneak peak into what attending the royal wedding might have felt like.
It's customary for the congregation of any wedding to receive a gift bag following the ceremony. But in the case of a royal wedding, that gift bag is more of a souvenir than anything else. At Markle and Prince Harry's wedding, guests were gifted with a canvas bag embossed with the newlyweds' initials and a chocolate coin, a commemorative piece of shortbread, a fridge magnet, a bottle of water, and (as the cherry on top), a "voucher for 20% off the Middle Ward gift shop in Windsor," according to Business Insider.
Nothing about this gift bag would have felt out of the ordinary, if it were not for the rumored gift shop discount voucher. I mean it kind of makes sense to include the coupon as to promote the town of Windsor, where the royal wedding took place. But for some reason it just seems kind of strange to include a coupon in your wedding souvenir gift bag to presumably buy more wedding souvenirs. But I'd take any royal wedding souvenir over NO royal wedding souvenir. So to whoever was lucky enough to witness this historic union in person and get one of these gift bags, consider me jealous.
The entire royal wedding day was truly historic, as Markle became the one of the first American woman to be wed into the British royal family since the 1930s. Since the announcement of their engagement in November 2017, the world has been patiently awaiting for this day. And now Markle and Prince Harry have become the Duke and Duchess of Sussex, with Markle officially joining the British royal family.
Markle and the Prince first met through friends in 2016, and it's been a whirlwind romance for these two ever since. After just a over a year of dating it was revealed that they were engaged, and were officially married just seven months after the announcement on May 19, 2018.
The entire wedding day felt like an absolute fairytale. Markle stepped out looking as regal as ever in a Givenchy couture gown, and Prince Harry looked handsome in his military uniform.
The groom choked up when he saw his bride walk down the aisle, proving that these two are the real deal. This might have been the most heartfelt and personal royal wedding that the world has ever seen, and I'm so happy that I got to witness it for myself.
I would have been even happier if I got to see the vows exchanged in person — but being a part of the TV audience will have to do. And for any of the royal wedding attendees that were lucky enough to score an in person invite: if you don't want to use your coupon at the Middle Ward gift shop, I will gladly take that off your hands for my future visit to Windsor.