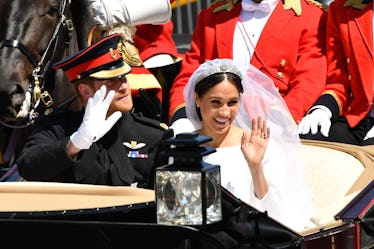 The Uniform Prince Harry Wore For His Wedding To Meghan Markle Has A Really Deep Meaning
Leon Neal/Getty Images Entertainment/Getty Images
The day of Meghan Markle and Prince Harry's royal wedding has finally arrived, and I'm definitely feeling all the love right now. The star of the event is of course, Ms. Markle: the first American to marry a British royal since the 1930s. But if you had a bit of a crush on Prince Harry growing up (like me), this wedding is just as much about him, and this groom definitely knows how to dress up for a royal wedding affair. But what does Prince Harry's wedding suit mean specifically?
Anyone who attends a wedding is typically just waiting to see what the bride chose to wear on one of the most important days of her life. Brides have a plethora of styles, colors, and silhouettes to choose from for their wedding gown, whereas the groom's creative liberty in terms of his suit are significantly limited in comparison.
But when you're a royal, what the groom wears is actually very meaningful and important — perhaps just as important as the bride's choice of dress. Prince Harry definitely is not upstaging Markle by any means, but what he's sporting for his wedding is definitely worth noting.
For the big day, Prince Harry elected to wear his military uniform for his nuptials. The queen herself gave permission to Prince Harry to wear his military uniform that is officially dubbed the "frockcoat uniform of the Blues and Royals," according to a statement from Kensington Palace. The cavalry that the uniform belongs to is of the same unit that Prince Harry served in while in Iraq, which is super meaningful and a personal touch in his wedding to Markle, according to Esquire.
Although he isn't actively serving in the British army, Prince Harry holds the ceremonial title of Captain of the Royal Marines and had the option if wearing the dark navy blue uniform that comes with it for his big day. Ahead of his big day, Prince Harry basically had two options of what he could wear for his wedding. The first option was to wear his military uniform, which is pretty much self explanatory. Prince Harry's military uniform represents his rank as Captain General Royal Marines — a role he has recently taken over from his grandfather, Prince Phillip.
His second option, on the other hand, was to wear morning dress. Morning dress is the U.K.'s daytime formal dress code, as it's the dress code that everyone attending the royal wedding adhered to. Morning dress code for men calls for a long cutaway tailcoat, striped trousers, a turndown collar shirt, vest, and tie. There's also the option of adding in various accessories to spice up the look, like a top hat or a snazzy cane.
It wasn't immediately clear what Prince Harry's choice of dress would be before the wedding itself. The last time the world saw a British royal wedding was when Prince William wed Kate Middleton at Westminster Abbey in 2011, and the groom wore his military Colonel of the Irish Guards uniform for the big day, so naturally the public expected that his younger brother might do the same. It's important to note that the British royal army does not permit beards to be worn with a uniform, but since Harry is not currently an active member, he was allowed to rock his signature beard for the big day. He chose to sport his signature ginger beard that was expertly trimmed to perfection as he prepared to say "I do" to his bride.
Whatever Prince Harry would have chosen to wear wouldn't have made him any less handsome, or look any less perfect standing next to his bride on their big day. Congrats to the new couple!