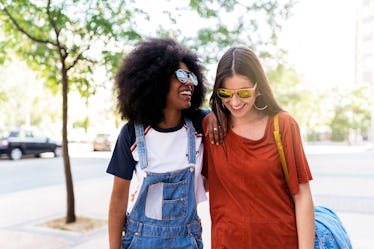 The Romantic Nickname You Love, Based On Your Zodiac
When it comes to showing affection for your sweetheart, you probably have a lot of options at your disposal. Yeah, when you were single, before you met this special someone, you might have been one to groan or gag at the sight of a couple calling each other by pet names. But now? You and bae literally do it all the time and it just feels right. TBH, people can have very specific boundaries when it comes to being called a nickname in an affectionate way. The romantic nickname you love could actually be related to your sign, because everyone's got a different preference for how they're shown affection.
Romantic nicknames or pet names are not always for everyone — the way that they're executed can be important, too. For instance, Iman, 24, says, "I like pet names! I like to call everyone by a pet name, but I think they can also be cringe-y," Sometimes it can be helpful to consider how what you're saying comes across, and whether or not it has the potential to sound sweet and romantic or — how do I say this? — pretty corny.
If you're interested in calling your bae by a romantic nickname, consider trying one out that might work well with their zodiac sign.