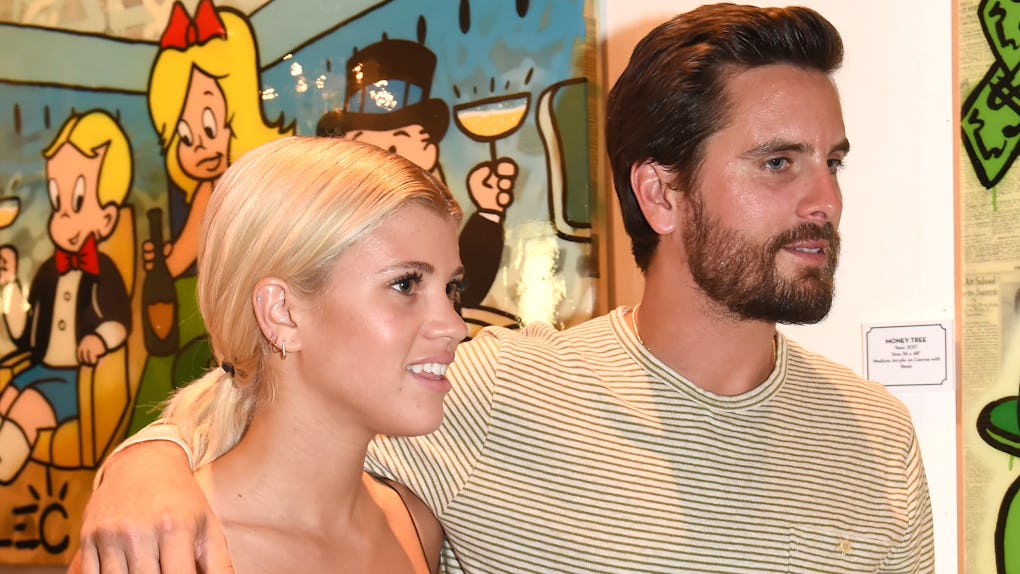 Romain Maurice/Getty Images Entertainment/Getty Images
The Reason Why The Kardashians Like Sofia Richie & Scott Disick Together Is Mature
Buckle in, gang. This Sofia Richie and Scott Disick thing ain't going nowhere. Disick and Richie have been dating for about a year now and it looks like she actually has the Kardashian family approval. Seriously. Like, for real. The reason why the Kardashians like Sofia Richie and Scott Disick together might be surprising, but fans should be pleased to hear it's all groovy in Calabasas. Peace among Disick and the Kardashians (especially his ex-girlfriend and mother to his children, Kourtney Kardashian) is rare to come by, so everyone soak it up while it lasts.
Initially, fans were shocked to hear about Disick and Richie. Mainly, folks pointed to their 15-year age difference as a point of concern. In fact, Richie is nearly two decades younger than Kourtney Kardashian. Still, here we are, a year later, and she and Disick are going strong.
In a recent clip from Season 15 of Keeping Up With The Kardashians, fans watched as Kourtney and Scott discussed Richie meeting their children without Kourtney receiving a heads up. Despite the tense conversation that was filmed months ago, sources say everyone has really warmed up to Richie being around.
In fact, according to sources, Kourt and her family think she has a good influence on Disick. "Everyone really likes her," an insider told People magazine. "They think she's a great influence and Scott is so in love, so it's not a problem." Elite Daily reached out to the Kardashians' team for comment on the report, but did not hear back by the time of publication.
Not a problem, you say? Well, that's new.
Disick is a notorious party boy known for participating in destructive behavior on and off camera, often to the detriment of his relationships. According to another source, Richie curbs that. The insider explained, "Sofia is helping Scott be a better, healthier person. Kourtney feels confident that Scott and Sofia take good care of the kids. Scott is a great dad when he has his life together."
Previously, People reported Disick and Kardashian's kids also enjoy having Richie around. A source told the publication, "The kids are allowed to spend time with her. Sofia likes having them and helps Scott. So far, the kids are giving Kourtney good reports about Sofia."
"It helps that Kourtney now trusts Sofia," the source added.
Richie recently spoke with the Australian publication The Sydney Morning Herald about her relationship. According to her, she and Disick are very much in love. "We are very happy, very lovey-dovey," she said.
We are best friends and that is mainly the strongest connection we have. We have always had that best friend connection and from there it has really worked out. I am so happy.
Obviously, folks wonder what she has to say about all of the previous and ongoing negative reports surrounding Disick, like his struggle with addiction or his reported flirtation with other women. But, according to Richie, "everything is so false."
"I don't read it because I just get really angry," she said. "It's hard to fully avoid it, but I get a good laugh, too."
Look, if the Kardashians are cool with this, then I'm cool with this. Who am I to argue with Kourtney Kardashian?